Kindle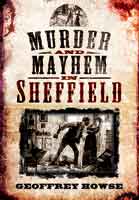 Murder and Mayhem in Sheffield

(Kindle)

Get Murder and Mayhem in Sheffield (Kindle) for FREE when you purchase 2 other eBooks.
Sheffield born actor and author Geoffrey Howse delves into his files covering over 200 years of Sheffield's criminality. In Murder & Mayhem in Sheffield he takes a look at some of the events that took place during a period of enormous growth within Sheffield; including a failed plot to murder some of Sheffield's officials, take control of the Town Hall and set fire to the homes of prominent citizens; the series of incidents known as the Sheffield Outrages are also mentioned, as are the notorious Sheffield Gang Wars of the 1920's. Murders from the eighteenth century through to 1947 are covered, including he fascinating case of one of Britain's most notorious murderers, Charlie Peace. The gruesome Shelf Street Hatchet Murder of 1881, is also included as are the Woodhouse Murder of 1893 and the Chinese Laundry Murder of 1922. Two Sheffield murderers who bore the same name, William Smedley, and who were both hanged for their crimes, committed murder in 1875 and 1947 respectively, are also featured. Although not for the feint-hearted, this book is sure to capture the curiosity of all individuals with an interest in the social and criminal history of Sheffield.
By delving into his extensive research, covering over 200 years of Sheffield's criminality, Geoffrey Howse gives readers an insight into some of the acts of violence and dreadful murders that have been committed in the city from the 18th century to the middle of the 20th century.

Yorkshire Ridings Magazine
Perfect Partner
---
Crashing Steal (Kindle)
Written by a man who was at the heart of the Sheffield steel industry throughout its most turbulent years. Crashing Steel gives us triumphs and disasters, heroes and villains, peace and war. Above all it gives us the story of a great industry in a great city. This is a tale which is intertwined with the lives of the people of Sheffield.rnrnThe men and women who made it all possible.
Click here to buy both titles for £9.98
More titles by Geoffrey Howse
---
Other titles in Wharncliffe True Crime...
---
---