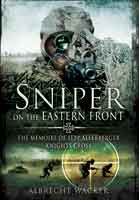 This book is a rare first-hand account by a ruthlessly efficient German sniper of life and death during the bitter conflict that followed the Nazi invasion of Russia. Josef 'Sepp' Allerberger was an Austrian conscript who qualified as a Wehrmacht machine-gunner and was drafted to the Southern sector of the Front in July 1942.

After being wounded at Voroshilovsk, he experimented successfully with a captured Russian sniper-rifle while
convalescing and returned to his unit as his regiment's only sniper specialist. In the gruelling months that followed, as the German Army was forced to withdraw under almost constant pressure from the Russians, Allerberger became the second most successful German sniper and one of the very few private soldiers to be awarded the coveted Knights Cross.

This harrowing and graphic memoir provides a vivid insight to the atrocious conditions and brutal cruelty of this campaign. There was, we learn, no place for chivalry and few prisoners survived long after capture. Allerberger relates the cunning, discipline and fieldcraft that not only saw him survive during the near constant action but made him such a relentless assassin.
Perfect Partner
---
Red Sniper on the Eastern Front The Memoirs of Joseph Pilyushin (Paperback)
Joseph Pilyushin, a top Red Army sniper in the ruthless fight against the Germans on the Eastern Front, was an exceptional soldier and he has a remarkable story to tell. His first-hand account of his wartime service gives a graphic insight into his lethal skill with a rifle and into the desperate fight put up by Soviet forces to defend Leningrad. He also records how, during the three-year siege, close members of this family died, including his wife and two sons, as well as many of his comrades in arms. He describes these often-terrible events with such honesty and clarity that his memoir is remarkable.…
By
Joseph Pilyushin
Click here to buy both titles for £29.98
Other titles in Pen & Sword Military...
---
---