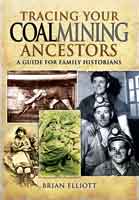 Tracing Your Coalmining Ancestors

(Paperback)

A Guide for Family Historians

Get Tracing Your Coalmining Ancestors for just

£12.74

by becoming a Platinum Member.

What's this?

+£4 UK Delivery or

free UK delivery if order is over £30

(

click here for international delivery rates

)

Order within the next 8 hours, 57 minutes to get your order processed the next working day!
In the 1920s there were over a million coalminers working in over 3000 collieries across Great Britain, and the industry was one of the most important and powerful in British history. It dominated the lives of generations of individuals, their families and communities, and its legacy is still with us today – many of us have a coalmining ancestor.

Yet family historians often have problems in researching their mining forebears. Locating the relevant records, finding the sites of the pits, and understanding the work involved and its historical background can be perplexing. That is why Brian Elliott's concise, authoritative and practical handbook will be so useful, for it guides researchers through these obstacles and opens up the broad range of sources they can go to in order to get a vivid insight into the lives and experiences of coalminers in the past.

His overview of the coalmining history – and the case studies and research tips he provides – will make his book rewarding reading for anyone looking for a general introduction to this major aspect of Britain's industrial heritage. His directory of regional and national sources and his commentary on them will make this guide an essential tool for family historians searching for an ancestor who worked in coalmining underground, on the pit top or just lived in a mining community.

As featured in Who Do You Think You Are? Magazine and the Barnsley Chronicle.
A useful guide for anyone with a coal miner in his or her family tree.

Who Do You Think You Are? Magazine
A meticulous mixture of social and family history. Mining life created close communities. We learn about the close relationship between mining and the labour movement, miners at war and the role of women and children. Whether or not you have mining connections, this is an interesting socio-economic read.

Your Family Tree
Perfect Partner
---
Tracing Your Jewish Ancestors A Guide for Family Historians (Paperback)
Rosemary Wenzerul's lively and informative guide to researching Jewish history will be absorbing reading for anyone who wants to find out about the life of a Jewish ancestor. In a clear and accessible way she takes readers through the entire process of research. She provides a brief social history of the Jewish presence in Britain, with descriptions of the principal communities all over the country. She gives a concise account of the history of genealogy and looks at practical issues of research - how to get started, how to organize the work, how to construct a family tree and how to use the information…
By
Rosemary Wenzerul
Click here to buy both titles for £27.98
More titles by Brian Elliott
---
Other titles in Pen & Sword Family History...
---
---