---
Use voucher code ANNE75 at the checkout until 27/6/2022 to save 30% off selected titles.
YouTube videos are unavailable because you have chosen to turn off third party cookies for enhanced content. Visit our cookies page to review your cookie settings.
Death March Escape
Hersch effectively uses his father's unusual story to convey the horrors of the Holocaust. A valuable addition to Holocaust literature. - Publishers Weekly Hersch's amazing tale is told for the first time by his son Jack who has retraced his footsteps for his new book. - The Daily Mail In a warm and emotionally engaging story, Jack digs deeply into… Read more...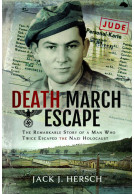 Related Product
---