Author Guest Post: Phil Appleby
Imagine the scenario. It's April 1982, and you're 20 years old. You joined the RAF when you were 17, and you're currently on a detachment in north Northumberland, on the Otterburn ranges, providing EOD cover during an exercise. For the uninitiated, EOD is explosive ordnance disposal, the process of making unexploded bombs safe.
On this particular morning you wake up, get out of bed, have breakfast, prepare for the day ahead… And then there's a call from RAF Wittering, telling you to get down there as soon as possible. What's going on? You arrive, and that's when you get told – you're going to be part of an EOD team travelling to the South Atlantic, to the Falkland Islands, somewhere you've never even heard of. What's more, it seems that you're going to be actively involved in a war. The EOD team's job: clearing any ordnance, unexploded or improvised, from any areas that the RAF Harriers could use as temporary air strips, and making safe any buildings or areas that the British recapture during the conflict.
This is exactly what happened to Ade Thorne. And for the next three months he faced challenges that he could never have imagined: daily attacks by Argentinian aircraft; ships sinking in San Carlos Water; dealing with the aftermath of one particularly deadly air raid; and not forgetting the physical problems of coping with Galtieri's Revenge, especially given the very rudimentary toilet facilities.
For the RAF EOD team, the end of the war in June 1982 didn't mean the end of their responsibilities. Everywhere there were unexploded bombs, live ammunition and improvised explosive devices, and it took weeks of hard work to make the local airfields, and Port Stanley itself, reasonably safe. Finally, in July 1982, Ade was able to return home, to an emotional welcome from family and friends.
Happily for us, Ade kept a Falkland Islands diary which vividly captures his extraordinary experiences. The diary is liberally illustrated with photos that Ade took during his three months in the South Atlantic. And despite the constant spectres of danger and death, the diary is full of humour – the hallmark of all RAF Armourers. It also includes a postscript, a diary of a return trip to the Falklands that Ade undertook in 2007, when he renewed old friendships and was able to enjoy the natural beauty of the Falklands.
Tony and I feel very honoured that Ade allowed us to publish his diary as part of our book. And we hope that you will enjoy reading it as much as we did.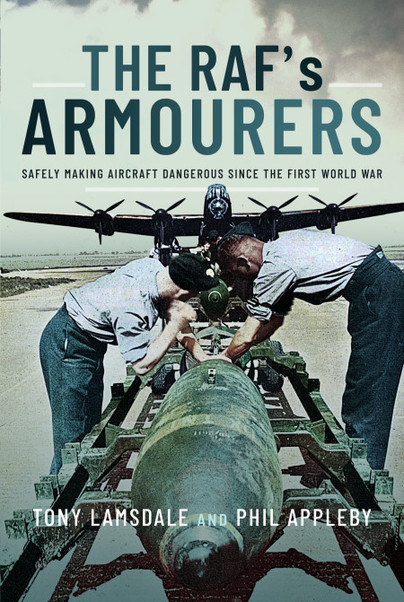 The RAF's Armourers is available to order here.
---