Author Guest Post: Steve Bartlett
Worcester's Great Western Diesel Railcars
Working on the Severn Valley
Steve Bartlett
Ex-GWR Diesel Railcars – Worcester

Allocation – April 1960

W20W

W22W

W23W

W26W

W29W

W32W
Many will be familiar with the role ex-GWR diesel railcars played on Severn Valley passenger services. They could be seen daily working from Hartlebury to Bewdley, Bewdley to Tenbury Wells & Woofferton and on the Kidderminster – Bewdley – Shrewsbury line. On the latter most GWR railcar worked services only went as far as Bridgnorth, although at least one went through to Shrewsbury daily; the balance was worked by engine and coaches.
With Kidderminster's conveniently located steam shed and footplate depot it might be assumed that the railcars were based there. In fact none were allocated to Kidderminster, although there were three based up the line at Stourbridge Junction. These however all worked Dudley to Old Hill and Birmingham Snow Hill services. Whilst researching my recently published "Worcester Locomotive Shed" book I was able to confirm that in fact all the Severn Valley diesel railcars were worked out daily from Worcester. In 1950, no less than 2.5 of the 4 daily Worcester railcar diagrams spent their time working Severn Valley and associated routes. It emerged there was also a dedicated Worcester railcar drivers' link; the drivers stayed with their railcars as they roamed over the Severn Valley system.
Hardy Rail Motors, a subsidiary of AEC Southall, was responsible for developing the railcar project in the early 1930s. They saw that diesel engines already used in heavy commercial vehicles, in particular AEC's London buses, could be capable of efficiently powering a lightweight single railcar. Extensive research was undertaken in co-operation with the GWR to develop a suitable lightweight and aerodynamic design that would be capable of meeting an operational railway's rigours and safety requirements. Final public service trials took place in December 1933 and railcar No1 was officially released to traffic in February 1934 based at Southall shed, close to AEC. There would be design variations between specific vehicles and builds over a number of years. Several were more comfortably equipped, including a buffet serving light refreshments, to launch a limited stop businessmen's service between Birmingham Snow Hill and Cardiff. However the majority operated as single cars on branch and local passenger services widely dispersed around the GWR system. Thirty eight were eventually built, the final one entering service in 1942. Those wishing to delve further into the design and development of these fascinating early diesels are directed to Colin Judge's definitive work 'The History of Great Western AEC Diesel Railcars'.
In GWR days the sleek early railcars were affectionately known as 'Flying Bananas'. They became a consistent presence on local passenger services in the Worcester area from that time. The depot's first No7 arriving direct from the manufacturers in July 1935; the allocation ultimately settled down to around six throughout the 1950s and into the 1960s. Worcester had one of the largest concentrations and became their last operational base; the final six cars being withdrawn in October 1962. Over the years they were found, sharing workings with steam hauled services, rather than exclusively used, between Worcester and Malvern, Ledbury, Bromyard, Stratford-upon-Avon and Oxford as well as on the Severn Valley.
Worcester's Severn Valley turns started with early morning positioning empty stock movements. In 1950 no less than three of Worcester's four diesel railcar diagrams started the day on the Severn Valley system. First out was a 4.55am Worcester to Highley empty stock to form a 6.07am Highley to Bewdley. Next out was a 5.10am to Kidderminster empty stock to form a 5.53am Kidderminster to Alveley Halt; the latter an unadvertised platform between Highley and Hampton Loade serving the colliery there. The halt was not seen as appropriate to reinstate on today's Severn Valley Railway. This railcar then made a three minute empty stock movement to Hampton Loade where it reversed and worked a 6.33am unadvertised service back to Alveley Halt. Both trips were for the conveyance of colliers to work. The third Worcester diagram, the daddy of them all, was a 5.35am forty-eight miles empty stock movement to Ludlow via Shelwick Junction, on the approaches to Hereford. There it reversed and went up the North & West route to Ludlow where it formed a 7.25am Ludlow to Woofferton, continuing from there as an 8.09am to Kidderminster, via Bewdley. Having spent the day working this section its return home was equally worthy of record. This was a 7.26pm Woofferton to Worcester Shrub Hill advertised service via Leominster and Bromyard. The passenger service between the latter two points would be withdrawn in September 1952; that between Bromyard and Worcester surviving until September 1964. Whilst the eye is drawn to these more eccentric workings, it should not detract from the fact that these railcars, with their low operating costs and driver and guard only staffing provision, brought some if not ultimately enough economy to lower passenger usage routes.
By 1960 common sense had prevailed and early morning work in the Ludlow – Woofferton – Tenbury Wells area was covered by a 1P 1400 0-4-2T and auto coach from Leominster. Regrettably no 1960 railcar diagrams have survived, but two very similar diesel movements instead of the original three were scheduled in 1960 from Worcester to the Severn Valley each morning. It is likely, but I cannot categorically confirm, that these were GWR railcar rather than new generation DMUs, but an informed reader may be able to clarify. There was now a 5.05am empty stock from Worcester to Kidderminster to form a 5.45am to the unadvertised Alveley Halt. The train was shown in the public timetable to terminate at Highley, but in the working timetable extended to this unadvertised destination. A second empty stock left Worcester at 5.25am for Arley, via Hartlebury to form a 6.30am back to Hartlebury to start off the day. Dave Massey described a trip from Kidderminster to Shrewsbury on 8 April 1961 in this summer's SVR News. He travelled from Kidderminster to Bewdley aboard W26W, from Bewdley to Bridgnorth on railcar W23W and from Bridgnorth to Shrewsbury behind Shrewsbury's Stanier 3MT 2-6-2T No 40205. Both ex-GWR railcars were Worcester based.
A railcar servicing depot had been established at Worcester in the Carriage & Wagon works area. This was north of Shrub Hill on the opposite side of the main line to the steam shed. It was already used as a wagon repair workshop which was now shared with the diesel railcars. Vehicle fuelling points were provided both inside and outside the shed and there were underfloor maintenance pits. When diesel shunting engines arrived at Worcester in 1960 they were also fuelled and serviced here. Later in 1966 when the steam depot had closed the former passenger shed building was converted to a diesel servicing point.
Worcester's railcar allocation remained relatively stable in the last few service years until October 1962 final withdrawal. W29W was withdrawn several months earlier than the others in August 1962, replaced on the allocation by W24W. Surviving official and semi-official allocation records can be conflicting and don't necessarily reflect the practical situation on the ground. Photographic evidence and local observations confirm twin railcars W33/38W worked out of Worcester during this final period, although some records incorrectly show them allocated to Reading when withdrawn in August 1962. The pair remained prominently stored outside Worcester's railcar depot for some time after withdrawal. It would be interesting if any photographs exist of this two car unit working Severn Valley routes.
"Worcester Locomotive Shed" by Steve Bartlett, containing over 240 B&W photographs and extensive descriptive text, has recently been published by Pen & Sword. It is available direct from the publisher, online retailers or ordered through any good bookshop.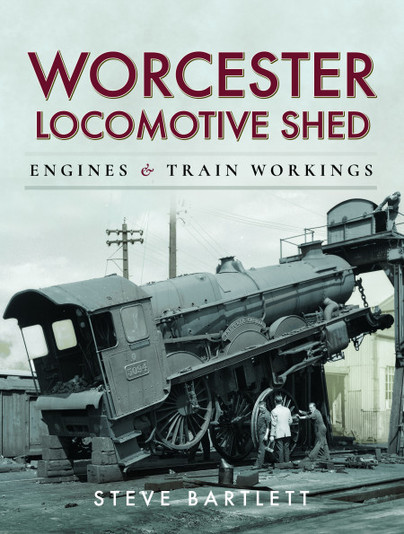 ---