Author Q&A: John Fairley
John Fairley's new book Fighting in the Sky is due to be released this Summer. In this Q&A John tells us about his experiences in writing the book.
What is the book about?
This is a book about fighter aircraft and military planes fighting in the sky, with many of the best paintings and works of art on the subject.
What inspired you to write it?
I myself served on an aircraft carrier in the Mediterranean, and became fascinated by air fighting.
Who will the book appeal to?
The book should appeal to particularly men of all ages. There is a Guild of Aviation Artists , of which I am a member. Indeed I believe Pen and Sword are publishing an anniversary book about them. They produce a magazine of Quarterly News which might well be willing to publish an extract from my book.
What interesting facts have you uncovered during your research?
The uniqueness of my book lies, perhaps, in the paintings I have tracked down, many of which have been lost for years. 
What research have you done?
My research has been widespread but focusing on the paintings.
What was the hardest part about writing this book?
The hardest bit was finding the paintings – many of them in America.
Is there a unique angle to this book and if so, what is it?
The paintings are the unique angle.
What has researching this book taught you?
I have learnt how some artists were sketching and painting while actually piloting their planes on patrol against the enemy.
What part of the book are you most proud of?
Finding so many great pictures.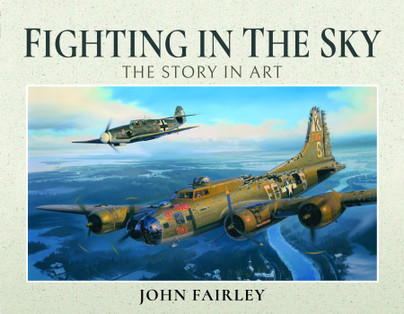 Preorder your copy here.
---