Author guest post: Chris Clark
Sian Emma O'Callaghan was a 22-year-old British woman who disappeared from Swindon, Wiltshire, having last been seen at a nightclub in the town in the early hours of 19 March 2011. Her body was found on 24 March 2011 near Uffington in Oxfordshire.
At 02:52 GMT on 19 March 2011, Sian O'Callaghan was captured on CCTV leaving Swindon's Suju nightclub to walk the half a mile (800metres) to the flat in Swindon's old town that she shared with her boyfriend, Kevin Reape. Reape sent O'Callaghan an SMS at 03:24; analysis later showed that her mobile phone was in the Savernake Forest area, twelve miles (19 km) away, at the time the message was received. At 09:45, Reape contacted the police and reported O'Callaghan as missing.
It later emerged that Christopher Halliwell, posing as a taxi driver, had abducted Sian from Swindon in Wiltshire and transported her body, firstly to the neighbouring County of Berkshire, where he initially was going to dump her body in Savernake Forest, then changed his mind and took her over into the neighbouring County of South Oxfordshire, where he dumped her close to the White Horse Hill, an area of outstanding natural beauty.
Becky Godden-Edwards was a sex worker who lived in Swindon. She was 20 years old when she disappeared. She was last seen alive in January 2003, when she was spotted leaving a nightclub and getting into a taxi, however, she was not officially reported missing until 2007.
Her body was found eight years later after going missing, buried in a remote field in Eastleach, on the edge of The Cotswolds in South Gloucestershire in 2011.
The body of Becky Godden-Edwards, a woman who had been reported missing in 2007, was found after Halliwell's arrest. Halliwell had led police to the body after saying 'Do you want another one?' On 31 March 2016, following fresh evidence, Christopher Halliwell was charged with the murder of Becky Godden-Edwards before magistrates in Chippenham, Wiltshire.
On 19 September 2016, a jury at Bristol Crown Court found him guilty of the murder.
Coupled with Halliwell's itinerant work, which took him all over the country Chris's analysis included Halliwell's interest in areas of outstanding beauty, fresh water fishing and the narrow boat canal network as vital to researching other crimes Halliwell may have committed.
It was with these parameters that Chris started researching other unsolved murders of women which had occurred both during the early 1980's and from 1987 forward to Halliwell's arrest.
During 2016 Chris alerted the joint combined Avon and Somerset/Wiltshire Police Brunel Major Crime Investigation of his findings and a list of victims that Halliwell should be investigated for.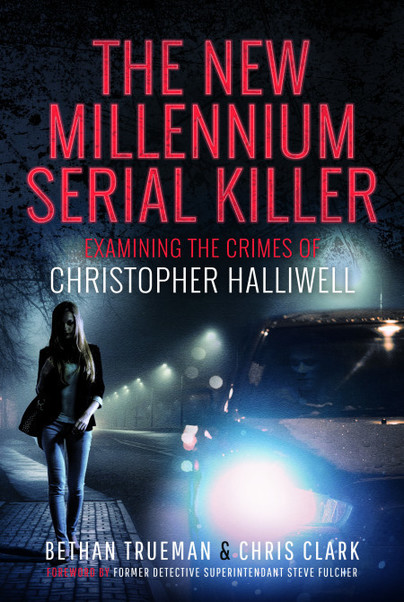 The New Millennium Serial Killer is available to order here.
………………………………………………………………..
Chris Clark started research back in 2014 into the background of notorious double murderer and suspected serial killer Christopher Halliwell. He has linked Halliwell to the East Lancs Ripper murders. Chris Highlighted the fact that Julie's murder and the murders of Linda Donaldson and Maria Requena fitted Halliwell's victim type and modus operandi. He also highlighted the fact that Halliwell was also a keen fisherman and narrowboat enthusiast who would likely have good knowledge of canals and waterways, like the Leeds and Liverpool canal and Pennington Flash. Halliwell also travelled extensively around the country doing various jobs and was also a taxi driver for large parts of his life. It had been brought to the publics attention last year that notorious convicted killer Christopher Halliwell was actually living in nearby Aughton at the time of Julie's murder, which is about 4 miles away from where her body was dumped. The witness that came forward with this information also advised that Halliwell worked in north Wales at the time fitting windows during the week, and drove a white D-reg Ford Transit van. He would return to his home in Swindon at the weekends. This has apparently been confirmed by a second witness.
The witness has now been spoken to by the police and they are now investigating this line of enquiry. Det Ch Insp Rachel Wilson who is leading the investigating said recently "We are investigating a new line of inquiry. A witness has come forward with information and has been spoken to by detectives."
---