Author Guest Post: David Maidment
A Privileged Journey
Over the past three or four years I've given talks to many railway clubs and groups and am often asked to share my experiences as a railway enthusiast boy and young man, which seems to resonate with so many of us brought up in the nineteen-forties and fifties. For then most small boys were trainspotters – and no-one seemed to worry that were allowed to roam round Britain's railway stations with a duffle-bag filled with a notebook and pencil, an Ian Allan ABC spotters' book, a few sandwiches, a fruit pie and a bottle of Tizer. I just had to visit my cousin, a district nurse, to get the smuts from my eyes after a day round the London termini.
When I was thirteen I was moved from a Grammar school to a public school through a scheme run by the County Council and remember well my local barber telling me that, if I was to survive at a posh school, I'd need to change my affections from trains to planes and fast cars. He was wrong – a few of us rescued the school's moribund railway club by hiring those old British Transport films and charging 3d to attend a showing. We ran two every term, but offered free entry for those who joined the club – 6d a year. Half the school – 300 – joined and the cash flow obtained in October funded a decent subsidy on all our club visits!
Then college days provided more experiences. I travelled daily from my home in Woking to Waterloo, subsidised by a County Council grant which paid for my annual season ticket – £33. As I was studying German language and literature, in the second and third years when I had many study free periods, I'd take my books to Waterloo and spend the day sailing up and down the south western mainline behind King Arthurs, Lord Nelsons, Schools and Bulleid pacifics even managing at the same time to research my specialist subject – stylistic analysis of mediaeval German epic poetry (very useful in my later railway career!). As most of the poems were based on the Arthurian legends, I did learn the source of some of the names of the engines behind which I was riding. Three months spent at Munich University in the summer of 1959 introduced me to the former Bavarian four-cylinder compound pacifics that brought the 'schnellzügen' in from the Swiss border – I learnt more German at the Hauptbahnhof than in college lectures there.
When I graduated I turned my hobby into my career and was selected to be a 'Traffic Apprentice' (management trainee) on BR's Western Region. I'd spent my college holidays working at Old Oak Common covering a longterm sickness post in the Chief Mechanical Foreman's office, compiling the depot's engine history cards – each engine's coal and oil consumption, mileage, repair record and planning their visits for overhaul at Swindon Works. I embarrassed the other clerks by finishing my work on most days in a couple of hours and I was told to arrive late, take a two-hour lunch break and wander round the shed in the afternoon helping different fitters as no-one wanted to alert management to the real workload of the job, lest the sick clerk was made redundant. So in 1962, when I was due to spend three months as part of my training at an engine shed, they sent me back to Old Oak Common of all places. I should have had a footplate pass for three of the weeks for the WR's Reading Division, but the shedmaster, who knew and approved my enthusiasm, called me in and gave me a three month driver's route learning cab pass covering Paddington to Penzance, Fishguard and Chester and all stations in-between. And I was getting paid for driving and firing Kings and Castles by day (under some tuition) and 47XX 2-8-0s on night freights!
All these experiences and many more are recounted in my book A Privileged Journey which was published as a hard-back by Pen & Sword in 2015. It is now out of print, but I welcome the company's decision to reprint it, together with my photos from those years, in paper-back format. And if you share my journey and are keen to follow more, the sequel covering from 1962 to the end of my railway career in 1996, is still available in Pen & Sword's hard-back, An Indian Summer of Steam.
David Maidment
Author
April 2020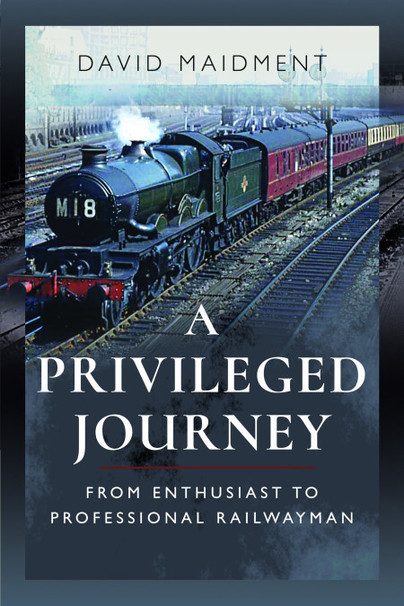 A Privileged Journey by David Maidment is available to preorder now from Pen and Sword Books.
---