Author Guest Post: David Mather – The Final Years of London Midland Region Steam
The years leading up to the end of steam on BR in 1968 were a time for many railway enthusiasts to pull out all the stops in a last-ditch attempt to record on camera the ever dwindling stock of steam locos still working on our railways. I was amongst those, lucky in that the north west of England was their final stronghold. My home in Bolton was close to the busy Manchester to Preston line, the route of what became the last 'named train' to be steam hauled, 'The Belfast Boat Express' to Heysham Harbour. From Preston, travelling the West Coast Main Line between Wigan North Western and Lancaster Castle stations became a regular week-end activity, venturing over Shap to Carlisle when opportunity arose. Most of these journeys were steam hauled, usually by a 'Black 5' or one of the last 'Pacifics', the Britannias, while shutters were kept clicking as grimy 8Fs and 9Fs hauled their freight through smoke filled stations.
My local shed, 26C (later 9K) had become almost a second home in those final years. Weekends and evenings while the light held could be spent wandering amongst the survivors, with scant regard being paid to 'Health and Safety'. A bit of cleaning here, a few photos there, no-one minded occasional enthusiasts paying their last respects. When the gates were finally closed, though oddly not locked, in July 1968, my last look around in the eerie stillness was disturbed by the lone railwayman kept on to oversee the once bustling site. 'They're all dead' he called with obvious sorrow, as a diesel multiple unit powered by.
This was the inspiration for 'The Final Years of London Midland Region Steam'. A sad time in many ways – the end of an era – though happily as it turned out, not as we all believed then, the end of steam traction on the UK.
David Mather.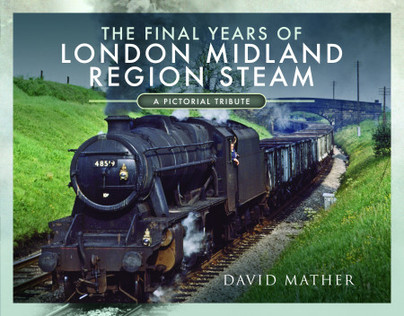 The Final Years of London Midland Region Steam is available to preorder here. 
---