Author Guest Post: Heather Johnson
THE POPPY LADY The Story of Madame Anna Guérin and the Remembrance Poppy
Anna Guérin: "Originator of the "Poppy Day"
Do you know who put the Remembrance Poppy on lapels? I didn't know the answer in 2015, when I was asked. I began researching and discovered it was a French woman, who had been all but forgotten. She was Anna Guérin, the "Originator of the Poppy Day".
She was born in 1878, in the Ardèche region of France and her education enabled her to open a school in a French-ruled colony, whilst living there with her first husband. She and her two daughters returned to France, after she divorced. Anna married in 1910 and she became Madame Guérin. She began lecturing for the Alliance Française, first in Great Britain.
During the First World War, she toured the USA raising funds for good causes in that country and France. She was described as "the greatest of all war speakers".
From 1919 onwards, she toured the USA again, forming a children's charity on behalf of the French government. Money was raised from subscriptions, 'Poppy Days', etc and was sent to off to France for distribution. Anna recited Canadian John McCrae's poem "In Flanders Fields the Poppies Grow". Her poppy sellers wore sashes bearing those words.
In 1920, Anna thought of her "big idea", the 'Inter-Allied Poppy Day'. She was invited to the American Legion's Convention in September 1920, to explain it: French women and children in the devastated areas of France would make poppies; veterans' organisations would order them at a price which included manufacturing plus something for Anna's charity, and keep the profit for their funds. Legionnaires adopted the poppy as their memorial emblem and committed to support Anna's "Poppy Days" for Memorial Day in May 1921. The American Legion veterans named her"The Poppy Lady of France".
After Anna's charity held the world's first nation-wide 'Poppy Day' in the U.S.A., in May 1921, Anna personally took her idea to Canadian and British veterans. Anna's idea was taken to veterans in New Zealand, Australia, and South Africa, by her representative.
Every English-speaking First World War allied nation has its own history to tell, of its relationship with Anna Guérin and the Remembrance Poppy and I have attempted to tell those in my book … together with how Anna Guérin arrived at her "big idea".
From 1922, allied veteran organisations arranged for their veterans to make poppies – some were faster to do it than others. For instance, since 1922, British veterans have made British poppies but New Zealand bought French-made poppies up to and including 1928.
For a few years after 1921, allied countries knew she was "Originator of the Poppy Day" was but Anna Guérin faded into obscurity. For seven years, I have strived to shine a spot-light on her. My book brings her story right up to date, with present-day acknowledgements of Anna Guérin's place in history. As I have been the first person to identify her, I thought I must write her first biography. Pen and Sword have enabled me to do just that.
Heather Anne Johnson, December 2022.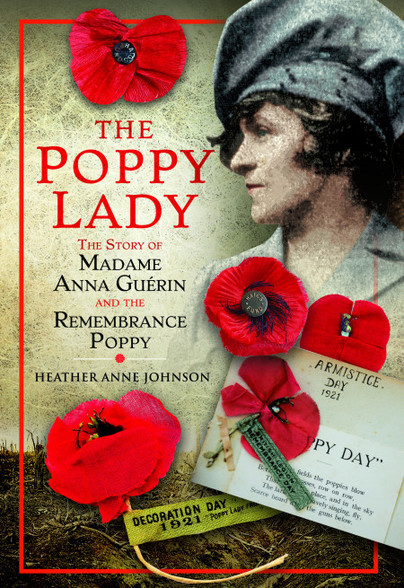 The Poppy Lady is available to order here.
---