Author guest post: Julie Cook
A girl, a Guide, a Queen: How Queen Elizabeth and her relationship with the Brownies and Girl Guides made the movement ever stronger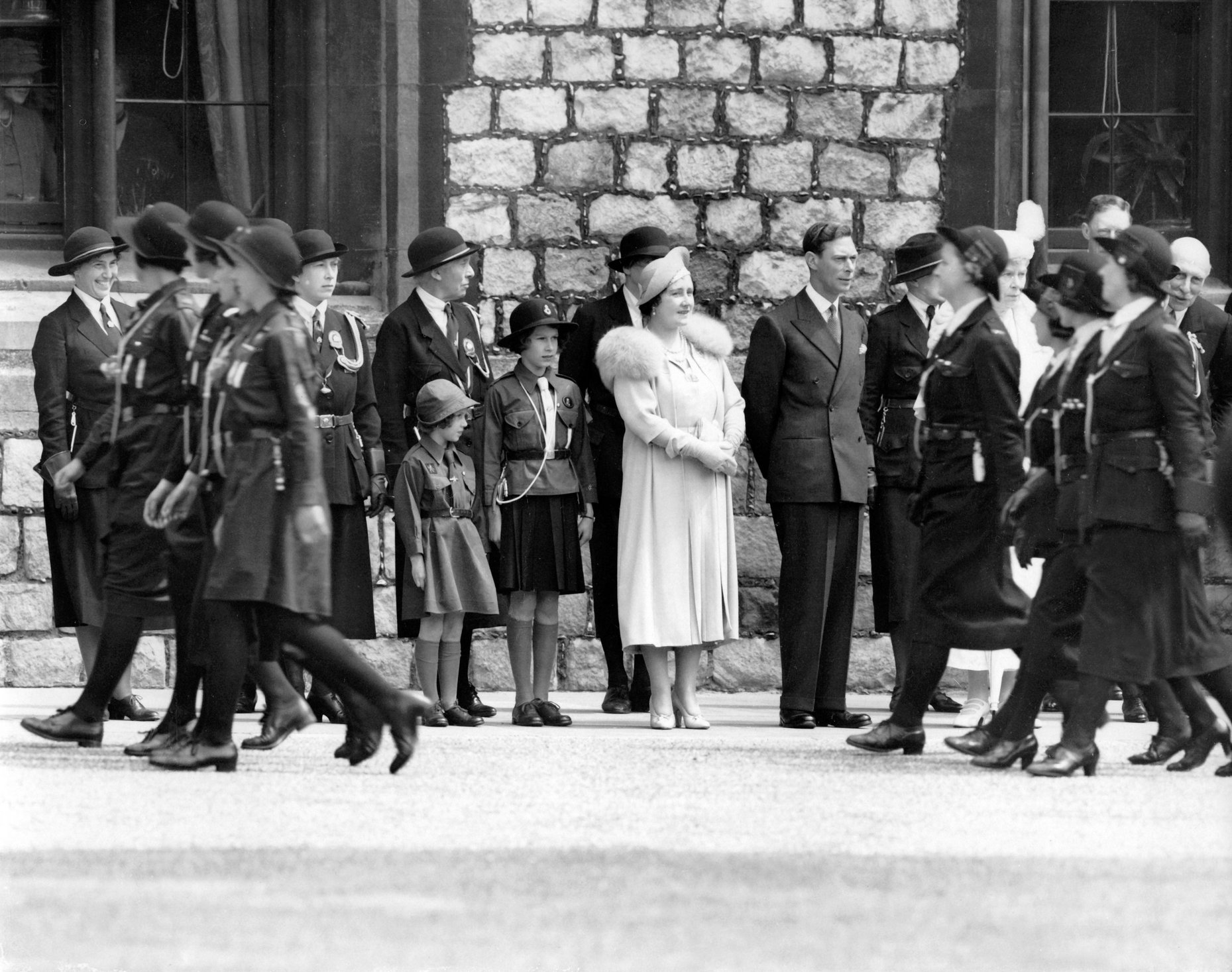 When the Queen was 10 – and then called Princess Elizabeth – she discovered she would one day be Queen. It was, by all accounts, Princess Elizabeth's governess who suggested both Princess Elizabeth and her sister Princess Margaret be treated as normally as possible in their childhood.
Princess Elizabeth had gone from the relatively unknown daughter of a Duke and Duchess to the Heir Apparent.
It must have been an overwhelming piece of news to digest.
A few months later, when the young Princess was 11, she and her sister Margaret, then six, joined the Guides and the Brownies.
Elizabeth became a Guide. Margaret a Brownie.
But of course she wouldn't simply join a local group. A troop had to be created.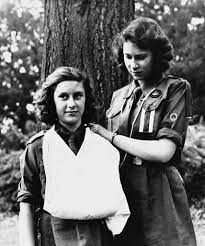 That year the 1st Buckingham Palace Guide Company was born. It would need a very special leader. Someone with vast experience of Guiding, the ability to teach a future Queen to camp and cook outdoors, as well as signalling and knot-tying. One woman's name was put forward: Violet Montresor Synge.
Many Guide leaders might have baulked at the idea of setting up a new company from scratch but the idea of setting up a new company from scratch at Buckingham Palace for the future Queen was something else. But Violet Synge was, by all accounts, the best woman for the job. She accepted the position and the 1st Buckingham Palace troop began.
The press revelled in the story that the country's future monarch would not be wearing dainty dresses and furs but would be joining a movement that encouraged girls to go camping, get dirty, light fires, tie knots and learn signalling.
The task for Violet Synge was no easy one. She was no stranger to setting up Guiding packs but this was arguably the most unusual pack anyone would ever have to start. Although Princess Elizabeth and Princess Margaret seemed naturally outdoorsy and more than ready to get mucky and dirty outdoors, the other little girls who joined their troop arrived in neatly pressed party frocks with their hair curled and wearing white gloves.
In her book which recalls the setting up of the 1st Buckingham Palace Company, Royal Guides, Violet Synge recalls:
'From the outset I was faced with a problem never met in my previous fifteen years' of Guiding; namely, to incite those children to let themselves go, to run, to climb and do all those things that the eleven-to-fourteen-year-old is usually all too willing to do.'
The group was split into patrols – Robins and Kingfishers. Princess Elizabeth became leader of the Kingfishers. Young Princess Margaret asked to also join but at age only six she was five years too young to be a Guide. So, a Brownie attachment was created for Princess Margaret who became a Leprechaun.
But, just as promised, Violet Synge ensured she did not treat the royal Guides any differently than she would any other little girls. When badge test days arrived, Synge invited specialists in that area of expertise down to test the girls so there would be no question of the Princesses getting special treatment to achieve their badges. The Princesses and their friends played cricket and did drill outdoors as well as Scottish dancing lessons. They even played in the dark, going on torch-lit treasure hunts at night around the palace grounds as well as make-believe games of cowboys, nurses, and even detectives 'helping' Scotland Yard. Lord Baden-Powell was unable to ever visit the 1st Buckingham Palace troop but he did write them a letter:
'I am so glad to hear that you are enjoying Guiding and that your company has already made itself so smart. Wishing you "good camping", I am yours v. sincerely, Baden Powell.'
On 'indoor days' when the weather was inclement, the Royal Guides would meet indoors in the palace, running amok and dancing past priceless art works and pieces of fine china. Whilst all this went on in the safety of the palace grounds, the press of the day seemed to follow the Princess's enrolment into the Guiding Movement as closely as they'd followed her father's route to coronation.
One newspaper wrote:
'Princess Elizabeth and Princess Margaret, who became members of the Girl Guide movement at the end of last year, held the first meeting this year of the Buckingham Palace Troop of Girl Guides at the Palace yesterday. Princess Elizabeth is a Girl Guide and her sister a Brownie. Their little friends, who are fellow members of the Kingfisher Patrol and the Leprechaun Brownies, came to the Palace during the afternoon, and with the two Princesses planned their future activities for the year and carried out work connected with the troop.'
The troop continued meeting in the garden summerhouses and the young princesses soon began learning the art of pitching a tent, cooking al fresco on campfires, first aid, knot-tying and signalling. Photographs from the time show a young Princess Elizabeth practising bandage-tying on her younger sister Margaret. The world's press was fascinated with the young future Queen's induction to the Girl Guides and she was photographed and filmed during her time as a Guide. She was first filmed with her sister Princess Margaret at Windsor Castle when the Guides paraded through the quadrangle. Footage shows Princess Elizabeth in her uniform – with her red and blue shoulder ribbons signifying she was part of the Kingfisher Company – along with her hat and tie. She became entangled with something on her back at some point and Princess Margaret – dressed in her Brownie uniform – stepped behind to help her which made the new King and his mother the Queen Mother Mary giggle. Princess Margaret was filmed fidgeting and moving around but, as the voiceover rightly said: 'That's what you'd expect of a Brownie of the Leprechaun Six of the 1st Buckingham Palace Pack.' The piece of film is fascinating because it shows a future queen and her sister, not standing still in stuffy dresses, but rearranging their uniforms, fidgeting and behaving as any other children of their age might. Clearly, being part of a Guiding and Brownie pack, being outdoors in wall weathers and mixing with other children was indeed giving them the 'normal upbringing' their governess had wanted. In fact, Princess Elizabeth was even allowed to join camps and the King and Queen gave her permission to join an open air Guides' summer camp which would be held at Windsor Great Park in the summer of 1938.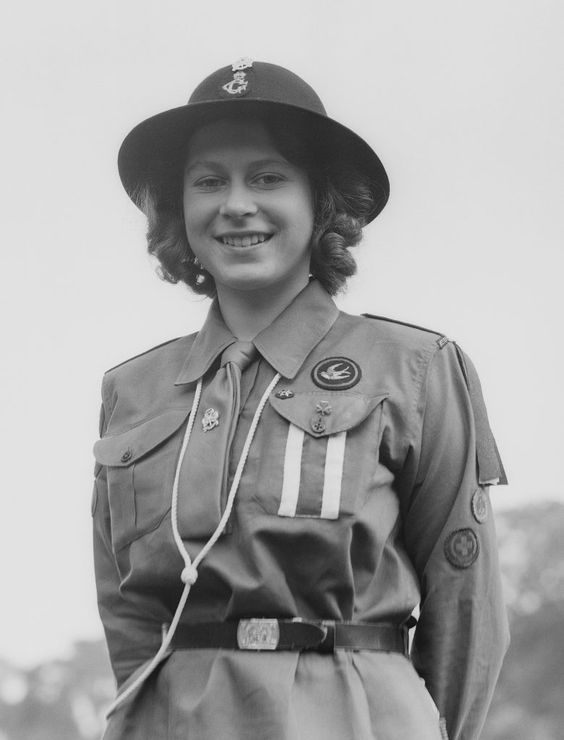 Camping, too, became a favourite of Princess Elizabeth and in 1939, the 1st Buckingham Palace Troop camped in Great Windsor Park. The King was so pleased his daughters were enjoying Guiding so much that he had a new summer house built in the grounds of Buckingham Palace for the Guides to meet. Described as 'imposing' for an outdoor house, it had heating, electricity, wide windows that 'let down completely' it was built a little further away from the original summer house (which had been demolished) and out of view of the Palace. The old summer house had been used by King V who would sit there in the afternoon and read and sign state papers. Here young Princess Margaret was taught how to polish furniture and Princess Elizabeth did ironing.
When the Second World War began in 1939, the young Princess Elizabeth's idyllic life came to an end. The young princesses were sent to Scotland during the evacuation of children. Princess Elizabeth is said to have telephoned her mother the Queen to ask if there was anything she could do whilst staying in Scotland to aid the war effort.
The Queen, apparently, replied that she would look into it but added that they should do a 'good deed every day' as was the motto of the Girl Guides.
*In 1953, after her coronation, Her Majesty the Queen became royal patron of the Girl Guides, which she remained until her death this year on September 8 2022.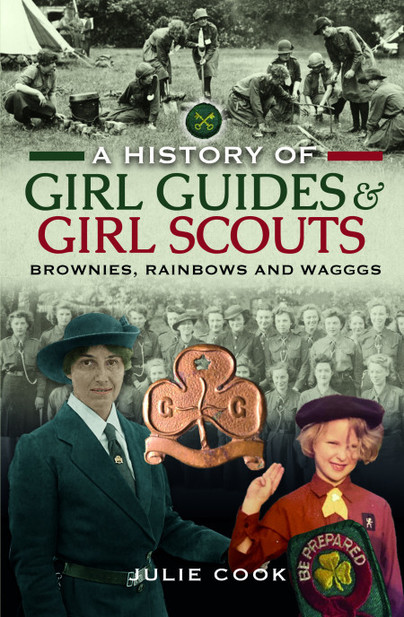 A History of Girl Guides and Girl Scouts can be ordered here.
---