Author Spotlight: Lindsay Powell
When people ask me what I do, I tell them I write about people in the Ancient World. My subjects will be familiar to anyone who has watched Barbarians (Netflix), Domina (MGM+/Sky), I, Claudius (BBC) or Rome (HBO). Though based on real events, some more loosely than others, these shows are intended as entertainment. As a historian I seek to tell the true stories of actual people and their deeds.
I write for Pen and Sword Military so, by definition, my subjects were commanders of note who struggled for glory. Why Romans specifically? From a young age they appealed to me. They had built forts in Wales — including Cardiff, my home city, and at Caerleon, up the road. Both have museums with amazing collections of Roman artefacts, which I was able to see for myself. It was — and still is — the appeal of the power and glory, the epic tale of a civilization a thousand years in the making, the way it bound together vastly different communities and peoples in a single world empire, and how it rose and fell. Roman history is filled with tales of men — and women — who shaped the destiny of their world. Roman society was very competitive — whether it was for votes at election time, or for the prestige of the largest number of followers, or for victory on the battlefield. They strove to be the best they could be in the terms that defined success for them in their times. They were doers and achievers; I like those qualities.
My subjects are the Caesars. They were famous, celebrities even, in their own day, but some of them have since fallen into obscurity; this is where I find my opportunities. Their stories deserve to be told today. As a writer, I have found that the core of what makes studying their their lives so compelling is a profound question. In Augustus at War (2018), my investigation was to answer how and why Julius Caesar's heir — widely regarded as a second rate general — succeeded as commander-in-chief (imperator) for over almost five decades. (He nearly doubled the size of the empire he inherited and founded the professional army we so admire). In Marcus Agrippa (2015), it was to understand why this exceptionally talented man who had the opportunity to seize power for himself from his best friend Augustus, yet never did. (He even allowed Augustus to adopt his sons, while he was still alive!) In Germanicus (2013) — the grandson of Augustus and a popular general who was destined to be third emperor, but never was — it was how and why he died. (Was it the result of a political plot as is often presumed, or was it by natural causes?) And for my latest subject, Tiberius Caesar — who was the best general of his day bar none, and Augustus' adopted son and successor— the question is this: was he really as terrible an emperor as he is made out to be (and if not, how and why has that narrative become his legend)?
I approach my subjects in the manner of a historical detective. These are, of course, cold cases! The origin of the English word history is istoria, the Greek for 'inquiry'. I begin by compiling an exhaustive chronology or timeline. As an investigator, I conduct extensive research critically using ancient documentary sources, epigraphy, numismatics, statuary, and findings from archaeology, as well as insights from architecture, engineering, geography, military studies, and medical science. I follow the leads wherever they take me. The 'ABC' principles of the forensic scientist apply: 'assume nothing; believe nobody; check everything'. Throughout, I follow the dictum of investigative journalists, which is to 'work from the facts outwards: never a thesis inwards', letting the known facts speak for themselves. Then I write my findings in a style that is accessible to the lay reader, just as I do as news editor of Ancient History and Ancient Warfare magazines. Supporting my findings of fact are meticulous endnotes that will stand up to academic scrutiny. For each book, I invite a guest to write a foreword: Graham Sumner, Philip Matyszak, Steven Saylor, Karl Gakinsky, and Eric H. Cline all graciously agreed to do so in successive volumes.
To date, Pen and Sword has published five of my books. All are still in print. Each has broken new ground, either by being the first to discuss a subject or by offering a careful re-evaluation of a well-known one. My first, Eager for Glory (2011) was about Nero Claudius Drusus (AKA Drusus the Elder). He was Tiberius' younger brother and Germanicus' father and there was no book about him until I wrote it. During the pandemic lockdown in Austin, Texas where I now live, I wrote Bar Kokhba (2021). It is about a Judean warlord who audaciously fought Emperor Hadrian and established a rebel state called Israel; the story is largely unknown outside the Jewish community and I wanted to bring it to a wider audience. My sixth, Tiberius, should appear in late 2024/early 2025.
I am extremely grateful to my commissioning editor, Phil Sidnell, and to production manager Matt Jones, for supporting these projects over the years. Indeed, we have just completed a revised edition of my best selling Marcus Agrippa, which will come out in paperback in the Autumn. I would also like to acknowledge Jon Wilkinson, Paul Wilkinson and Dominic Allen who designed the fabulous — and highly distinctive — book jackets.
The Ancient World is filled with stories of amazing people doing extraordinary things. I am the lucky guy who gets to tell some of them!
Pen and Sword Author Page:
https://www.pen-and-sword.co.uk/Lindsay-Powell/a/1760
Follow Lindsay Powell on social media:
Facebook: https://www.facebook.com/LindsayPowellAuthor/
Twitter: https://twitter.com/lindsay_powell
Threads: https://www.threads.net/@lindsay_powell_author
Images: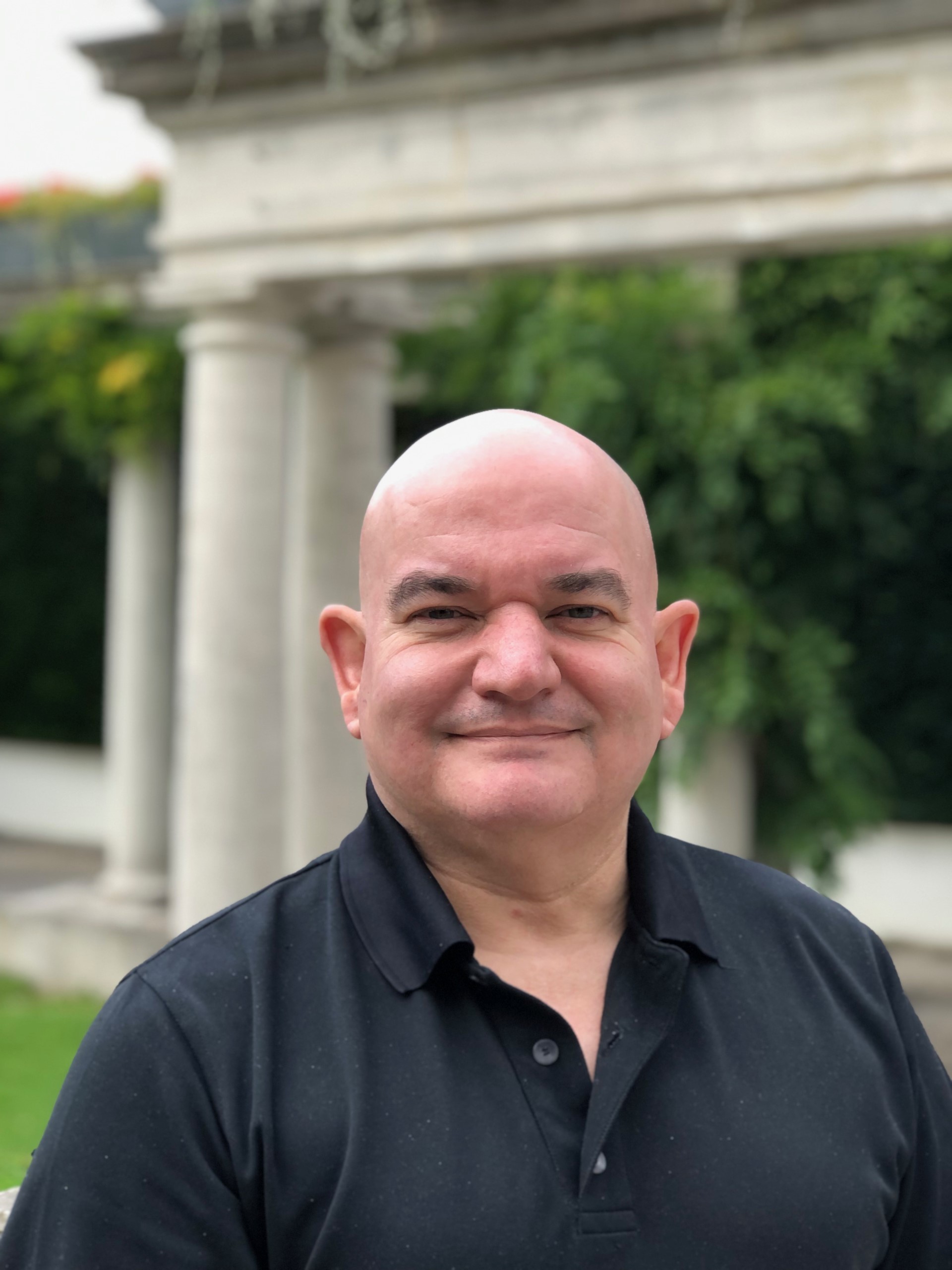 Lindsay Powell at the Pompeian Garden in Dyffrin House, South Wales. Photo: Mark Judkins.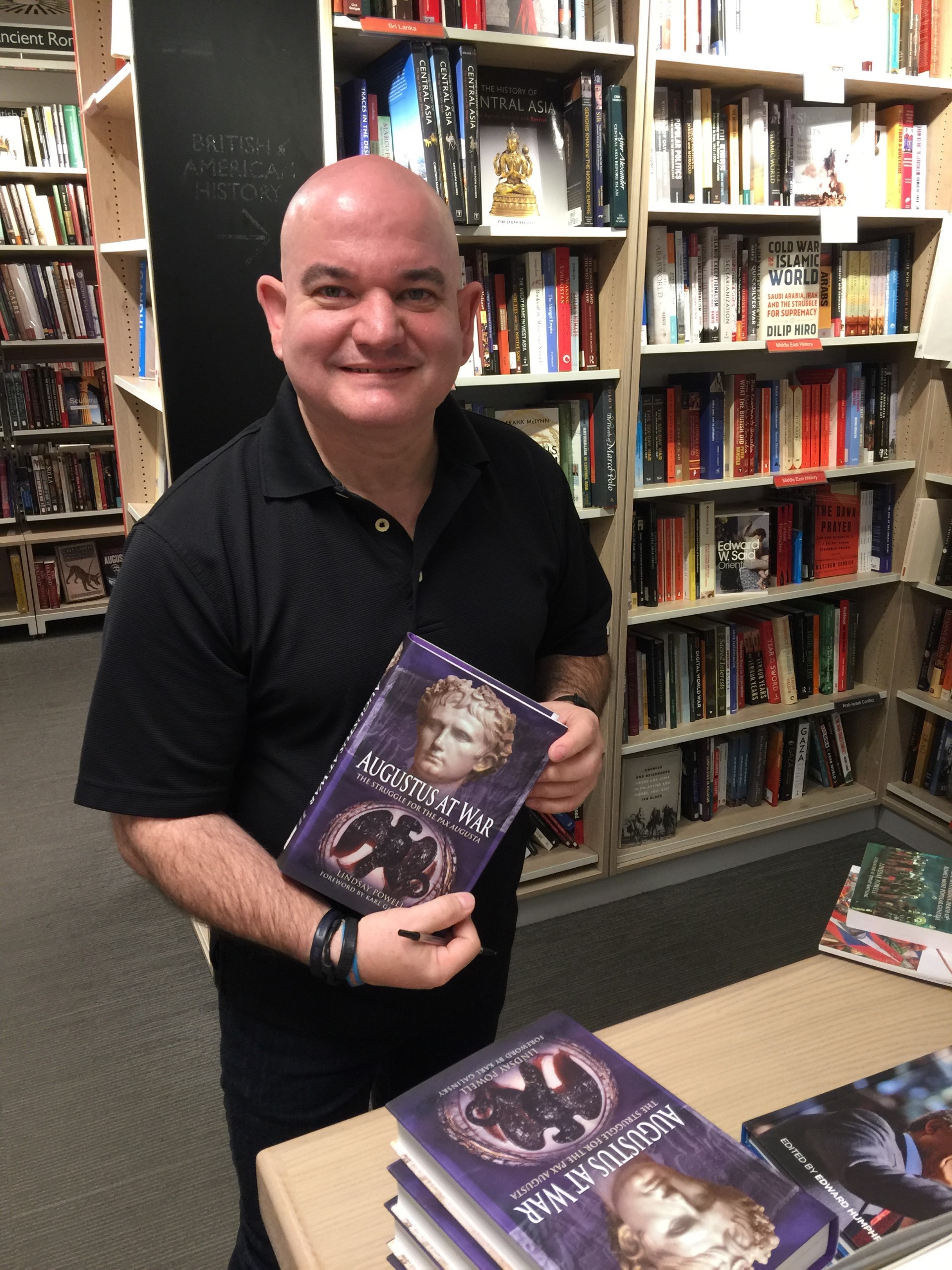 Lindsay Powell signing books at Foyles in London. Photo: Mark Judkins.
Shop Lindsay Powell titles here.