Author Guest Post: Ryan C Walker
Was Henry Breault Late to his Own Award Ceremony?
For those who have visited the Submarine Force Library and Museum, commonly referred to as the Nautilus Museum, there is an area reserved for the Submarine Force's Medal of Honor recipients. Visitors can read about the life and service of John P. Cromwell, Samuel D. Dealey, Eugene B. Fluckey, Howard W. Gilmore, Richard H. O'Kane, Lawson P. Ramage, and George L. Street III, all commanding officers of submarines.1 But there is another who stands as a peer among them, TM2 Henry Breault, the only enlisted submariner to receive his Medal of Honor for actions performed as a submariner.2 My article in the International Journal of Maritime History details the renaissance of his story, but there is something deeper to his story as a submariner that could not be fully expressed in an academic work. Due to the prestige of the Medal of Honor and its status as a symbol of bravery, Henry Breault represents enlisted submariners to the greater public; he represents the forgotten enlisted, who performed their duties with no realistic hope of a similar accolade.
Late to His Own Ceremony?
H. Avery initially recommended Breault for a Navy Cross, which R.H. English and A. Bronson concurred with. M.M. Taylor, upgrading the recommendation to a Medal of Honor.3 The first public announcement that Breault would receive a Medal of Honor was in the Baltimore Sun on February 20, 1924.4 The Navy Board announced his award but gave no date, they likely did not know when he would show up as they organized transportation via ship. Breault received his orders to go aboard an Army transport Somme or the USS Capella. On February 23, 1924, he boarded the Capella, which was scheduled to arrive in Hampton Roads on March 5, 1924. A surprising accusation surfaced in some of the newspapers: Breault was allegedly late to his own award ceremony!
1. Also included is Paul Foster, who received his Medal of Honor prior to his service in the Submarine Service. Cromwell had previously been the commander of the S-20, but he was underway on a Prospective CO tour.
2. With all respect to William R. Charette, corpsmen who earned his Medal of Honor for actions in the Korean War before his time in the submarine force.
3. Ryan C Walker, "Henry Breault: Construction of a naval hero," International Journal of Maritime History, (OnlineFirst, published December 22, 2022): 12-14, https://doi.org/10.1177/08438714221145491.
4. The Baltimore Sun, February 20, 1924, Thursday, Page 11, Newspaper.com Archive.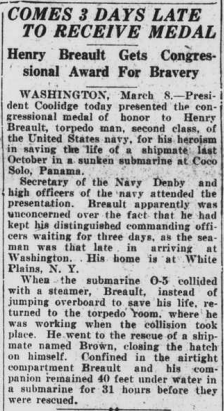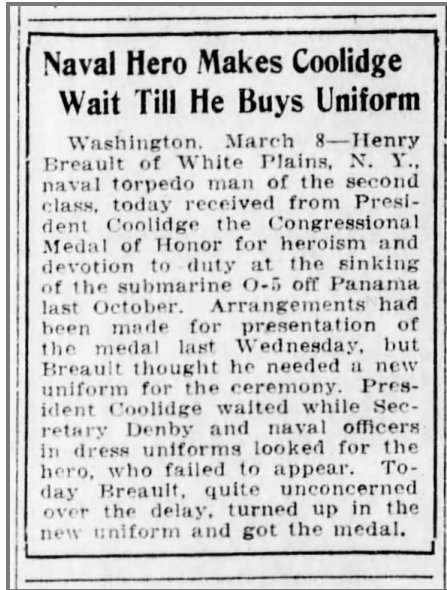 Several newspapers reported that the award ceremony was scheduled for 1215 on Wednesday, March 6, 1924, with naval officers and the President waiting. Memphis based The Commercial Appeal reported:
A sailor of the United States navy broke an important engagement with President Coolidge today. Henry Breault, a torpedo man, was to have appeared at the White House at 12:15pm, after a long voyage from Coco Solo, Panama Canal Zone, to receive from the hands of the chief executive a medal of honor for bravery. High naval officers, movie men and others were on hand with their presence and extensive [preparations] for the occasion. Henry did not show up. The [reason] assigned at the Navy Department was that he had missed his ship at Norfolk. He is due to explain when he arrives.1
Several newspapers offered an alternative motivation, the Brooklyn Daily Eagle suggested the delay was due to Breault's need for a new uniform, which makes sense in the aftermath of the loss of the O-5, for which Breault filed a property claim, indicating he may have lost all of his uniform items.2 The only thing close to a reason or excuse given by Breault himself was given in an interview with a reporter from the New York Evening Post on March 15, 1924. According to the reporter, Breault gave the justification, "he could see no reason to hurry."3
In the era before rapid transit via airplane, ship or rail movements were the primary method of travel. Movement by ship was reliable, but it was not perfectly punctual. While the newspapers would jump on the story of a simple gob snubbing a presidential appointment, there was likely an explanation relating to traffic or weather. It's certainly humorous to imagine the conversation between Breault and his chain of command, with a chief telling Breault to have a SAT uniform or "don't bother showing up!" To which the modest Breault, the excellent sailor he was, would simply reply, "aye, sir/chief." The most likely explanation is that Breault's ship was late through no fault of his own, as indicated by his lack of punishment, and the newspapers took the opportunity to spin a yarn that would have made a sailor blush.
Breault's ceremony still happened on March 8, 1924. Four pictures survive and are available online at the Library of Congress.4 No mention of his tardiness can be found in his OMPF, indicating Breault was not punished for any infraction of decorum, indicating his alleged tardiness was not his own fault. Still, it appears Breault also shares another first, being the only Medal of Honor recipient to be late to his own ceremony.
The Hero Today
---