Danny Dyer's Royal Roots
Hello! Today we have a fascinating guest post from Pen and Sword author and genealogist Anthony Adolph. You can purchase Anthony's book, Tracing Your Aristocratic Ancestors here.
Last
summer I was asked to participate in a new BBC1 series, which is due
to be broadcast from 23 January 2019 at 9 pm: Danny
Dyer's Right Royal Family.
Danny
Dyer is famous today for his role as Mike Carter, landlord of the
Queen Vic in the BBC1 soap opera EastEnders,
though he is now perhaps better known amongst younger viewers as the
father of Dani Dyer, star of ITV's Love
Island.
Danny was the subject of a fascinating episode of Who
Do You Think You Are?
that revealed his descent from royalty but, as he explains at the
start of this new series, one hour's episode was not enough time to
really explore these connections in depth.
Danny's
royal ancestry would have made a perfect case study when I was
writing my first Pen and Sword book, Tracing
Your Aristocratic Ancestors,
which was published back in 2013, but is still as relevant today as
it was then. Statistically, anyone with any British ancestry at all
must be descended many times over from every Medieval peasant who
produced descendants who are still alive today, and likewise every
Medieval farmer, merchant, tradesman, clerk, knight, baron, earl –
and king. Most of the poorer sort of Medieval ancestors are not
represented in surviving records at all, and even if they are, the
genealogical connections are not good enough to find links down to
the present. But, the higher you go, the better the surviving records
and family trees are, and if you can ever make a link into the
surviving body of Medieval pedigrees, the world's your oyster, as
my book explains.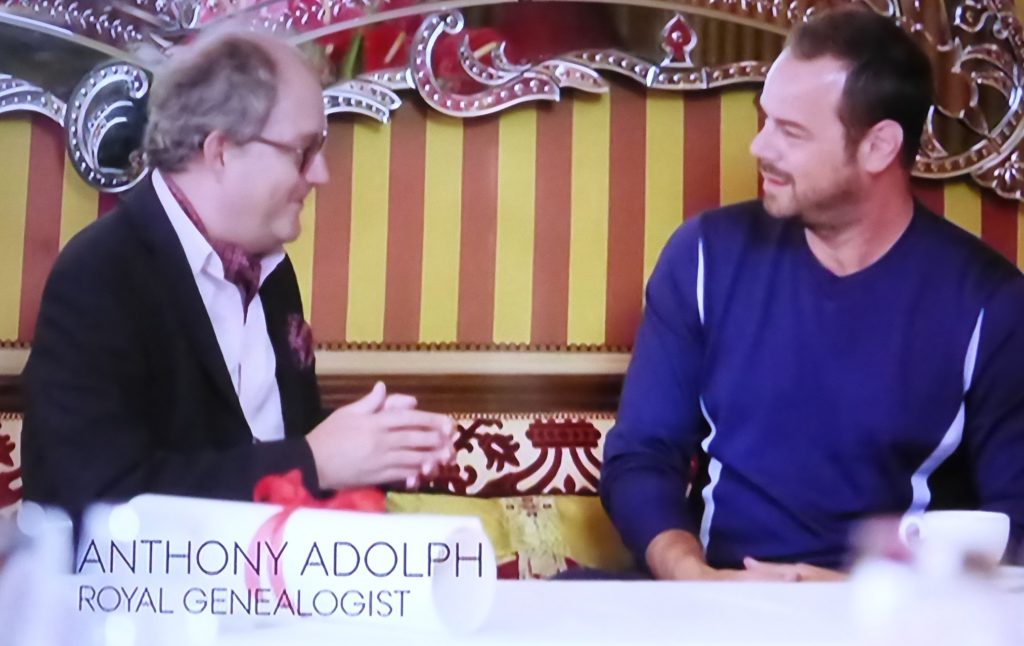 Finding
that elusive link is easy for some people, whose ancestry is
predominantly middle or upper class, as like usually tended to marry
like. For people from working class backgrounds like Danny, the links
are probably still there, but they are simply a lot harder to find,
and well done to the Who
Do You Think You Are?
who worked on Danny's ancestry and found his.
The
key was a family called Gosnold. Tracing back through Danny's
father Antony (born in 1955), they found that Danny had a 5 x great
grandmother called Ann Gosnold, who died in 1843. They were alert
enough to realise that there was a landed gentry family of the same
surname, with a family tree going back into the seventeenth century
which had some interesting intermarriages with yet grander local
families. By tracing back from Ann, they found that her line, though
extremely poor, was descended from a younger son of the landed gentry
Gosnold family. In those days, estates tended to be kept deliberately
intact and passed from eldest son to eldest son, so the younger sons
of younger sons frequently ended up as labourers, and that was the
case here. Through the Godnolds' intermarriage with the Tollemache
baronets, a line goes back to Catherine, daughter of the 2nd
Baron Cromwell, and, hey-presto, Danny's connection to the
aristocracy became clearer. Then, you can go back from the Cromwells
to the Seymours, Wentworths and Cliffords to the Percy Earls of
Northumberland, who were descended from the Plantagenet kings of
Medieval England (and thus from the kings of France as well). This is
my book Tracing
Your Aristocratic Ancestors,
in action.
The
aim of the show was to allow Danny – and all of us – to really
explore what these noble and royal connections really meant. It's
one thing to say you're descended from Harry Percy, Earl of
Northumberland, but what was it like to
be
him? What did he eat? What did he wear? Where, indeed, did he live?
As my involvement in the research side of the show was very much with
verifying the genealogical connections, and particularly sorting out
the complicated matter of getting the coats of arms right on his new
and greatly expanded pedigree, I was not involved with that more
biographical side of the filming, so I will be as interested as
everybody else to see, on Wednesday evening, the results unfolding,
as Danny begins to really start exploring the nitty-gritty of who his
blue-blooded ancestors were. But he did tell me one story about the
filming, when he was flown to Sweden in order to be dressed up as a
Viking, so as to have a taster of what life was like for his ancestor
Rollo (or Hrolf), the Norse founder of the Norman dynasty. Complete
with heavy iron helmet, stout leather breeches and thick fur cloak,
Danny was properly attired to withstand the bitter cold of life
marauding across the winter seas, and whilst being filmed, thus
attired, he could see Swedish cooks preparing a typical Norse meal of
blubber and fish. The only problem with all this was that the filming
took place during last summer's heat wave, and in fact in the
hottest day in Sweden ever
recorded. As Danny melted inside his furs, he told me, he could see
the blubber and fish he was going to have to eat going off. But he
soldiered on, media trooper and royal descendant as he is.
I
enjoyed my own piece of filming with Danny, in the Rubens Hotel by
the side of Buckingham Palace – as close to living royalty as the
BBC's budget would stretch. I've been focussing on writing and
genealogical research more and more in the last few years – not
least writing more books for Pen and Sword – so I have done less
filming than I used to. It was fun, therefore, to be back in front of
the camera and working with a celebrity. As we sat in the tea lounge,
surrounded by lights and cameras, I could see tourists stopping to
stare at us through the window, wondering who we both were, and were
we someone famous – or even, given the location, slightly royal?
My
role was to present Danny with his new family tree, point out the
particular ancestors whose lives he was going to explore, and to send
him off on his journey. He wondered if any of the royals would watch
the show and whether they'd approve. As he shares his Percy
ancestry with Kate, Duchess of Cambridge and, believe it or not,
Meghan, Duchess of Sussex. Both of them married into the royal family
having very little knowledge of their own royal roots, most of which
were revealed by keen genealogists such as myself. Heavily involved
with royal life today, they will not have had much time to explore
their royal origins – so I hope they will enjoy watching their
cousin Danny doing it for them.
Danny
Dyer in real life was a fascinating combination of genuine East End
geezer and media luvvy, with utter professionalism and charm mixed
with real, cocky grit. Before the filming-proper started, I asked to
be excused in order to pop down to the loo, and as I slipped away,
Danny said encouragingly 'that's what we in the East End call a
fireman's dash'. I quickly worked out the Cockney rhyming slang
and smiled: 'that's very good', I replied, as I walked away.
'It's Cockney rhyming slang', he told me, in a louder voice, as
I made my way across the carpet towards the stairs. 'I realised
that', I replied, with a smile, and continued in my efforts to slip
discretely out of the room. But, just to make sure I understood the
joke, Danny then shouted, helpfully, filling the entire lounge, and
the hotel foyer beyond with his powerful, pub landlord's voice:
'It's rhyming slang for going for a sl-sh!'
I
hope that Danny
Dyer's Right Royal Family will
live up to expectations, and allow us all to enjoy, through his
experiences, the reality behind my Pen and Sword book, Tracing
Your Aristocratic Ancestors
– and I hope too that the show will inspire you to buy a copy of my
book and trace your own as well.
ANTHONY ADOLPH