Guest Post: Britain's Railway Disasters by Michael Foley
The arrival of the Corona Virus in Britain has led to an unusual reaction to the countries railway system, especially the London Underground. What was once seen as the safest form of transport is now one that the Government is advising us to avoid if at all possible due to the danger that crowded carriages present to the public.
It is hard for the majority of rail users to ever imagine that the railway system was anything other than safe. This is far from being the case. Travelling on the early railway system was so dangerous that it was possible to buy insurance with your ticket. The early trains may have been slow but the drive to increase speed often led to less attention to safety.
In fact the country was close to losing one of its most famous literary figures due to a railway accident. Charles Dickens was on a train that crashed at Stapelhurst in 1865. He ignored his own safety to help injured and dying passengers. He could so easily have been one of the dying.
It wasn't only accidents that were seen as a danger on early trains. As the speed of trains increased the medical profession began to take an interest in the effects of speed on the human body. No one had ever experienced such high speeds before. It soon became evident however that it wasn't the speed of trains that was a problem for the passenger's health it was the sudden stopping when a train hit something and the passenger came in contact with part of the carriage.
Medical knowledge in the nineteenth century wasn't very advanced. One of the early writers on the subject of railway injuries was John Eric Erichsen who later became a physician for Queen Victoria. He was best remembered for saying that surgery on the chest, abdomen and brain was impossible. However he often appeared in court as a witness for rail crash victims.
There was a common type of injury seen amongst railway passenger known as Railway Spine. The type of injury was not exclusive to rail crash victims but Erichsen claimed that they had become more common since the introduction of rail transport. There were opponents to Ericson's view and many doctors claimed that Railway Spine was not a physical injury but was due to hysteria.
There were many cases of passengers involved in accidents walking away seemingly unhurt. This happened to a forty three year old man who was involved in an accident in 1864 who was thrown forward and then backward. He went on to help others escape from the wreckage. A few hours after the crash he became weak and depressed, had trouble walking and suffered from headaches. When Erichsen saw him three months later he was also suffering some paralysis. Cases like this were quite common where the victim becam worse after the accident
It was not surprising that some doctors argued against Erichsen's views. James Ogden Fletcher published a book which argued against the views on Railway Spine that Erickson had published in his own book. The fact that Fletcher was the consulting surgeon for the Manchester, Sheffield and Lincolnshire Railway may have had something to do with this.
Whatever the rights and wrongs of the medical evidence involving the passengers of early railways the doctors involved had plenty of evidence to examine. Accidents on the railways were a very common event, not helped by the fact that the early rail system consisted of hundreds of different companies all trying to outdo each other with passenger safety often being less of a priority than profits.
Early train carriages often had no roofs for third class passengers. This meant that they were often thrown out of the carriage during an accident. By the time of the First World War things had improved although as the Royal Scots found out at Quintinshill in 1915, wooden carriages lit by gas may have been luxurious compared with early open ones but they were much more dangerous in an accident when the carriages catch fire.
The level of safety has obviously improved as the railway system has developed, with better safety levels and more modern signalling systems. Accidents may be much less frequent now but the increased speed of trains has made more recent accidents rarer but very dangerous. Let us hope though that the present situation will soon come to an end and that the pleasure of railway travel can get back to normal.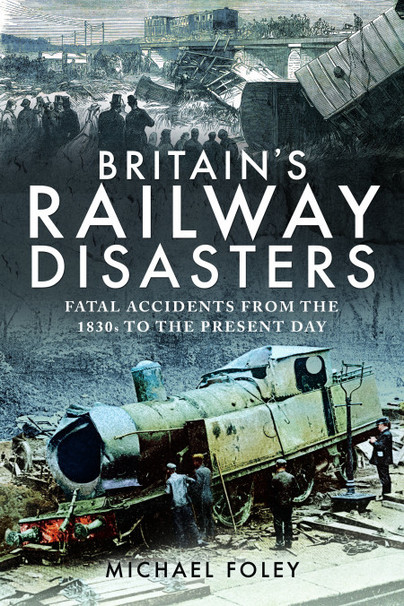 Read more in Britain's Railway Disasters, which is available to order now in paperback and eBook editions.
---