Meet the author: Andrew Bartlett
WE HAVE A CHAT WITH THE AUTHOR, ANDREW BARTLETT…
…or at least we would have done had it not been for the fact that we're in lockdown in Yorkshire, while Andrew's in a similar situation 100 miles away in Leicestershire. So we thought who better to interview Andrew about his new book…than Andrew himself!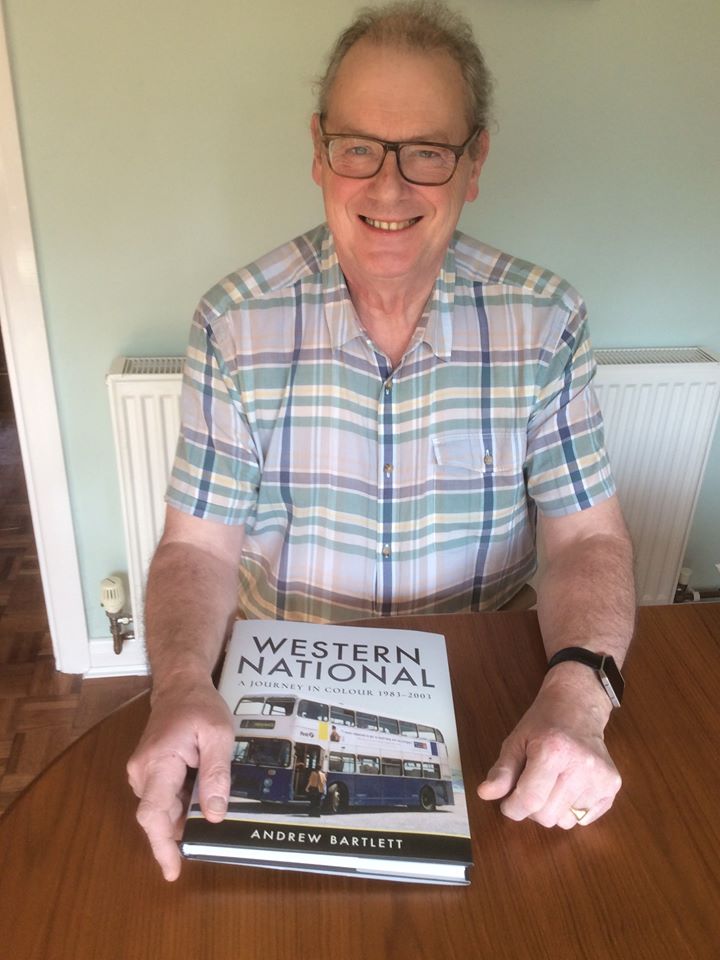 The first question has to be – why the interest in a bus company so far from home?
I would not be the only enthusiast to say that a holiday destination was the key. I've visited Devon on countless occasions, in fact every year since 1981, and I soon discovered that everything about Western National was different from the local companies I was used to in Leicestershire.
In what way?
Midland Red had for many years built their own buses which weren't seen outside of the Midlands, while Leicester City Transport was a Council company whose vehicles were mainly of Leyland or AEC manufacture. Western National, as part of the Tilling group, bought Bristol buses almost exclusively, types that, apart from some saloons Leicester bought in the late sixties, were only occasionally seen in the city on longer distance services.
So how did this Western National epiphany come about?
The 1981 holiday was in a little seaside village called Torcross, which lies midway between Dartmouth and Kingsbridge. On one side, a pebble beach and the sea, and on the other side, a freshwater lake, with a main road running in between them for about three miles. The Western National 91, as it then was, ran up and down this wonderful road seven or eight times a day in each direction, and was operated mainly by Bristol VRs, some of which were almost brand new! What's wasn't to like!
As the holidays were spent in Devon, how did your discovery of Cornwall take place?
I'd visited Cornwall a few times over the years but the opportunity to work on a project in St Austell for several months, and the travelling around the county that this enabled, was a real eye-opener. I go back as often as I can; Cornwall is to my eyes very different to Devon, but equally as beguiling.
You've chosen to start your book with the events of 1983. Why is that?
Between 1969 and 1982, as part of the National Bus Company, Western National had a huge operating area which incorporated both Southern National and Devon General. The government wanted to slim down the larger companies ready for a future sale, so Southern National and Devon General were cut loose, leaving Western National with operations in the western half of Devon, broadly speaking, and in Cornwall.
Is it fair to say that this era has been under-represented in recent publications?
Oddly, after many years without any books on Western National, there have been two in recent months. But both concern themselves with specific aspects of the work or vehicles, whereas Western National – a journey in colour 1983-2003 looks at the company in its entirety, and places historical events in the context of management's responses to the many and varied external pressures of the period.
What happened when privatisation did come to Western National?
The big sell-off started nationally in 1985. Western National was privatised in 1987, but the circumstances appeared rather unusual at the time, as the winning bidder was Plympton Coachlines, a very small local operator. It only became apparent afterwards that it had had financial support from Badgerline, a company based in Avon and Somerset, in the process of setting up its own transport portfolio. Western National was its first acquisition.
We know these were testing times for the bus industry. How did the new owners of Western National fare?
Quite well, up to a point. There were takeovers of other operators in both Devon and Cornwall, and a few new buses and coaches were added to stock. But a bus war with Plymouth City Transport did neither side any favours, and led to Badgerline acquiring the Plympton Coachlines share of the business.
You seem to suggest that with Badgerline management in overall control, Western National enjoyed something of a renaissance. Is that right?
Absolutely. Investment in new second generation minibuses, the upgrading of the coach fleet, the reinstatement of services lost in the 1970s and the upgrading of others gave Western National a much-improved image. I believe that in terms of the period covered by the book, these were the "glory days".
But when Badgerline merged with the Grampian group (GRT) in 1995, things changed; and reading between the lines, not necessarily for the better.
There were two problems; one, that the executives of the two groups had different modus operandi, and two, that instead of being managed from the Badgerline HQ near Weston-super-Mare, Western National's destiny was being controlled from Aberdeen, 600 miles distant. It also soon became clear that First, as the merged group was known, proved to be far more committed to urban populations than to the type of smaller communities that Western National served, so investment in new vehicles tended to decrease as the years went by, with a corresponding increase in second- and third-hand vehicles from within the group. Western National's image suffered as a result. This was also not helped by the takeover of the barely profitable North Devon (Red Bus) company in 1999, but it did bring yet more variety to the fleet.
There is a fair bit of discussion about the liveries Western National buses and coaches carried. Was this a specific interest that developed from years of photographing them?
First of all I have to confess that the technical side – what goes on under the bonnet – is beyond me! But having spent all my formative years in Leicester, I was used to seeing vehicles in one livery, with few (if any) variations. Even when Leicester City Transport decided to change its colours from maroon and cream to cream and maroon, the new look was consistently applied. Now as far as Western National was concerned, the transition from National Bus Company green to the first "privatisation" livery went smoothly enough, and by and large, changes introduced by Badgerline in 1988 and 1992 adhered to the intended design. But starting in 1997, and in the interests of a corporate image for First which involved standard liveries for new and old vehicles, inconsistencies in application quickly became apparent. So yes, reference to the different schemes, including overall advertisements, is a feature of many of the introductions and individual captions because it's something I looked out for when travelling around the area with my camera.
Why was December 2003 the place to end?
That was when management in Aberdeen decided to change the name to First in Devon & Cornwall and introduce a national fleet numbering system. Changes as sweeping as that would need another volume, not this one.
Ok, so what one word best sums up your book?
Variety!
Alright, go on…!
Lots of different vehicle types, body manufacturers, liveries; lots of different locations, from city, to town, to countryside, to seaside; lots of detail about the company, and lots – over 225 in fact – of photos, nearly all of which have never been published before.
What's next for you?
Later this year, Pen & Sword will be publishing another book I've written about this beautiful part of the country. Buses along the route of the South West Coast Path follows the 630-mile trail of that name from the start in Minehead on the north Somerset coast to the finish adjacent to Poole Harbour in Dorset. There will be lots of fine photographs, not just of buses from the last 95 years, but also some of the beautiful scenery and the treasures that may be found in places on or near the Path.
Good luck with that too! Andrew, thank you very much.
Thank you.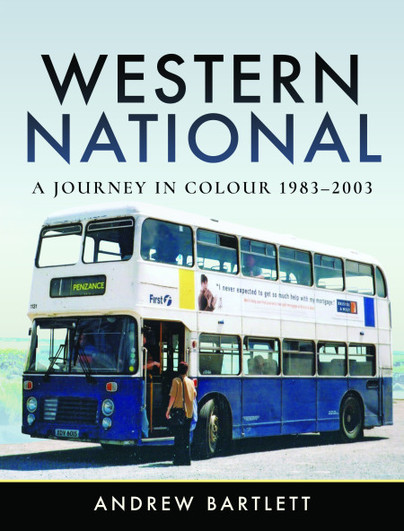 Western National: A Journey in Colour, 1983–2003 is available to order now from Pen and Sword Books. 
---