Meet the author: Chris Goss
Many books have been written about the Battle of Britain and understandably are from the victor's perspective.  However, very little has been written about the losers.  Over the years, author Chris Goss, himself a former RAF senior officer, has studied and written about the Luftwaffe's part in the Battle of Britain.  In 2019, he wrote Knights of the Battle of Britain listing all German aircrew who were awarded the coveted Ritterkreuz-the Knight's Cross.  This prompted him to study those Luftwaffe fighter pilots who achieved ace status (five or more victories ) by 31 October 1940.  This book is the result of his studies which lists all Messerschmitt Bf 109 pilots, and to a lesser extent Messerschmitt Bf 110 pilots, who became aces in the Summer of 1940 with as full a biography as possible of each and photographs of nearly all 204 of them, something which has never been done in the 80 years since the Battle of Britain.
What is the book about?
The biographies of all German fighter pilots who by the end of the Battle of Britain had been credited with 5 victories or more in air combat.
What inspired you to write it?
The RAF, understandably, has been well covered in the Battle of Britain but I asked myself the question how many German fighter pilots had achieved ace status in accordance with RAF and American rules. 204 was a big surprise.
Who will the book appeal to?
Aviation historians and anyone with a passing interest in the Battle of Britain. Relatives of those listed or those RAF pilots on the receiving end of these German pilots.
What interesting facts have you uncovered during your research?
The well knowns like Mölders, Galland and Wick, are well covered but what about the less well knowns or those who were killed or captured during the Battle of Britain itself and have generally been overlooked? There were quite a number.
What research have you done?
Having studied the air war over NW Europe for 40 years, my database, research material and contacts are considerable so this made the task easier than anticipated.
Have you been able to access any primary source material?
Logbooks, combat reports, war diaries-few and far between but those that are available are of great help.
What was the hardest part about writing this book?
Sourcing photos of all 204-I achieved this all but 10 or 15 of them.
If you have used illustrations where did they come from?
My collection and my network of fellow historians. Searches of eBay have also been helpful.
Why do you think you were qualified to write the book?
Despite being a retired senior RAF officer, the Luftwaffe has always interested me as they were the enemy. Studying, researching, visiting Germany and writing for 40 years has hopefully helped me know my subject but there is always something else to learn!
What has researching this book taught you?
There is always something else that can be written about the Battle of Britain and this book plus my book on the Luftwaffe's Knights Cross winners on 1940 are proof of this.
What part of the book are you most proud of?
Getting it written and on the shelves exactly 80 years after the Battle of Britain finished!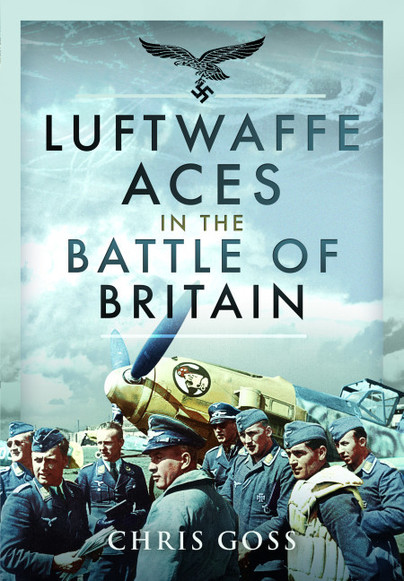 You can order a copy here.
---