Normandy's Nightmare War by Douglas Boyd
Today on the blog we have a guest post from Pen and Sword author Douglas Boyd. In this post, Douglas will give us some background to the recently released title Normandy's Nightmare War. Enjoy!
……………………………………………………..
Mention the war in northern France and people think it was all heroic SOE agents fighting the Gestapo, the Milice and the German occupation troops. True, in Normandy, the German occupiers shot or deported some hundreds of agents and Resistance fighters. But there was another war going on at the same time that cost far more lives.
When we regain our freedom of movement, holidaymakers passing through the ancient French ferry ports like Boulogne, Cherbourg and Dunkirk and inland cities like Rouen and Caen may wonder why there are so few old buildings. The demolition which preceded the extensive renewal of the town centres was effected in WW2 by British bombs dropped by the RAF during four years of hell for the people living there. Before its belated liberation three long months after D-Day, the sirens in Le Havre wailed 1,060 times to warn of approaching Allied bombers. After one single raid, over 3,000 dead civilians were recovered from the city's ruins, without counting the thousands of injured, maimed and traumatised survivors.
Allied airmen killed as many civilians in northern France as died in Britain from German bombs during the whole war. But one in ten Allied bombs failed to explode. The 'heavies' weighing up to 500lb still lie as deep as nine metres below the surface, being dug up wherever mechanical diggers prepare the site for a new supermarket or car park. In 2016 one man deep-digging his vegetable garden in Rouen dug up ten smaller, but still lethal, bombs. A Norman bomb disposal expert estimates it will take at least another forty years until all the unexploded bombs have been rendered safe.
Many of these Allied air raids had no military logic because inexperienced crews were sent to bomb northern France for practice before tackling more dangerous targets in Germany. In the run-up to D-Day and afterwards the Allied air forces deliberately bombed flat the city centres occupied by French civilians. For the people of Normandy the years of the Occupation were a long nightmare, longest in Dunkirk, where the German garrison did not surrender until after the end of the war.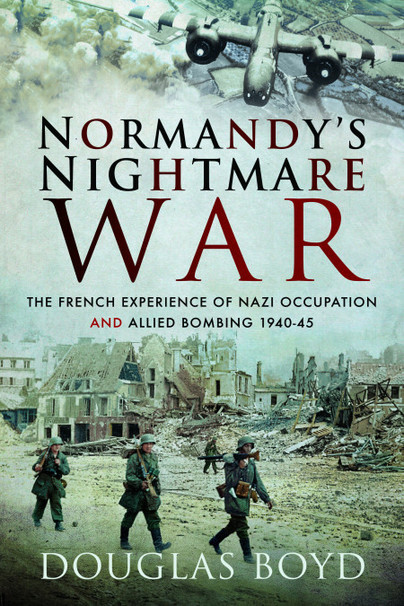 We have paperback and eBook editions available to order now.
---