The Moors Murderers
Author guest post from Chris Cook.
Ian Brady and Myra Hindley. Master and slave? Teacher and student? I don't think we'll ever truly know. What is known is that Ian Brady, already showing signs of being a psychopath before he met Myra Hindley, used her to further his dream of committing the 'perfect murder'.
When Hindley took a job at Millward's Merchandise in Manchester, she found that she would be working for a tall, Scottish man named Ian Brady. For her, it was almost instant attraction. For him, she was just a woman who's job it was to do what he said. He found that he could treat her as meanly as he pleased, and her attraction to him kept her going back for more. She found out that he liked poetry, classical music and liked to keep his personal and work life completely separate. He was completely different to all the other men she had met – they had been only interested in drinking, partying and fighting.
Brady didn't socialise with the other workers at Millwards, but at a Christmas party he finally asked Hindley out, feeling content that she had served her probation and that he could manipulate her to his will. For Hindley, feeling that she was in love, he was all she had ever dreamed of, and wrote in her diary of her delight at finally going out with him.
That love soon turned into an infatuation, an obsession. So much so that in just a few short years, she would help him in his plan to commit the 'perfect murder' – a murder where the body was never detected and the murderers never caught. They chose children as easy targets, and she helped him to abduct and murder Pauline Reade, 16, John Kilbride, 12, Keith Bennett, 12, Lesley Ann Downey, 10 and Edward Evans, 17. How much of a part she actually played in the murders is up for debate. She always claimed that she wasn't present at the scene of the murders – she was always in another room, in the car or over the brow of a hill. But she was certainly present during the torture of Lesley Ann Downey in the minutes and seconds before she was murdered, she was present in the same house when Edward Evans was beaten to death with an axe, and she knew Pauline Reade and later said it was because she knew her that she decided she would be an easy target. Ian Brady later said that she took part in her rape and murder.
They were eventually arrested when Ian Brady murdered Edward Evans in front of a witness – a 17-year-old local thug called David Smith. Smith was the husband of Myra's younger sister, Maureen, and Brady had been plying him with free alcohol and taking him up to the Moors above Manchester as he thought he would come in useful to help him commit armed robberies. Both Brady and Smith hated working and wanted to commit robberies in order to live off their ill-gotten gains. During some drunken evenings, Brady had bragged to Smith that he had committed murders but didn't believe that Smith thought he was telling the truth. Annoyed at this, Brady decided to show him what he was capable of and, with the help of Hindley, abducted Edward Evans.
That night, Hindley went to Smith's home and told him that Brady had some alcohol for him, so he walked back to the house at Wardle Brook Avenue with her to collect them. Seconds after he arrived, he heard a scream coming from the living room and walked in to see Brady attacking another man with an axe. He watched in horror as Brady beat the man, Edward Evans, multiple times over the head with the axe until he stopped breathing. Then, in fear for his own life, he helped Ian Brady and Myra Hindley clean the crime scene and move the body up to Hindley's bedroom. He then went along with the plan to take the body up to the moor to be buried the following night, giving Brady the opportunity to rest an ankle he had injured during the attack.
When Smith got home to his wife, he told her what he had witnessed, and they went to the police. Shortly after, Brady was arrested at home and the body of Edward Evans was found upstairs in Hindley's bedroom. During the police interviews with Smith, he told them that Brady had bragged that he had killed before, burying their bodies on Saddlewoth Moor, and hid incriminating evidence at the 'Left Luggage' departments at various local railway stations.
When police, whilst searching the house at Wardle Brook Avenue, found a book in which Brady had written the name of John Kilbride, alarm bells began to ring in their heads, as his disappearance was well publicised.
They also found in the house a photograph album belonging to Ian Brady, which looked odd to them, as there were a lot of photographs of Brady and Hindley taken in various odd places on the moors. One of these was over Myra, holding a puppy, squatting and looking down at what was clearly recently disturbed ground.
The police realised that, as Brady only drove motorbikes and didn't have a car licence, in order to abduct these children, he must have had an accomplice and, checking Myra's driving records, saw that she had either owned, or rented, a car on the dates when Pauline Reade, John Kilbride, Keith Bennett and Lesley Ann Downey had gone missing. She was then arrested.
After a huge search on the moors, the bodies of John Kilbride and Lesley Ann Downey were eventually discovered. As the bodies of Keith Bennett and Pauline Reade were not found, the police had no evidence to charge them. Brady stated that Hindley had no knowledge of any of the crimes and that David Smith had brought Lesley Ann Downey to his home, where she was photographed, but that she had left with Smith. Myra backed up his claims.
Because of this defence, David Smith and Maureen Hindley were vilified by their neighbours and strangers in the street. They were even attacked by members of the families of the victims.
At the trial in April 1966, Brady was found guilty of the murders of Edward Evans, John Kilbride and Lesley Ann Downey. Hindley was found guilty of the murders of Edward Evans and Lesley Ann Downey and for harbouring Brady knowing he had murdered John Kilbride. Brady received three concurrent life sentences and Hindley was sentenced to two concurrent life sentences, plus seven years for harbouring.
So why write this book? Well, looking at all the evidence from the police, Brady and Hindley, I felt there was more information out there and that Brady and Hindley should not be allowed to keep their 'perfect murder'. I was able, under the FOI Act, to have Home Office files opened at the National Archives in Kew, London. These gave me further access to court documents, police files and even Brady's 'Tartan' photograph album, which shows more scenic photographs of the moors. This book gives the most up-to-date account of the crimes, why they happened, how they happened, and the effect they had on the families of the children. There was so much new, never before published information uncovered that it had to be broken into two books, the second of which 'Convicting the Moors Murderers' is due for publication in 2023.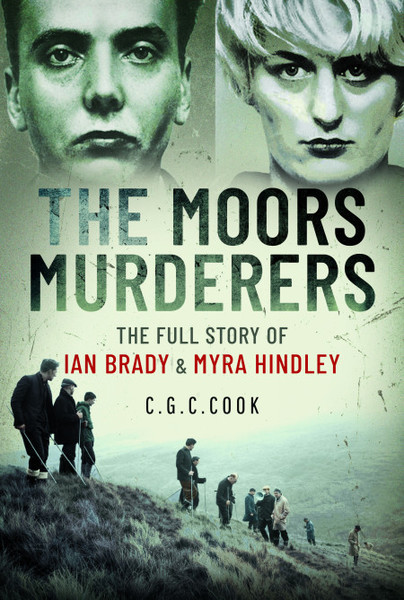 The Moors Murderers can be ordered here.
---