Author Guest Post: Colin Higgs
Empty Sky was never meant to be a book. But then none of the more than 130+ interviews we have conducted so far were ever intended for books; they were all filmed for TV programmes.
In 1996 we filmed interviews for the TV series Battle for the Skies, which was broadcast on Discovery Channel in 1997. We interviewed more veterans for follow-up programmes until we realised that we were compiling an ever-increasing archive of priceless first-hand accounts, many of which could never be recorded again.
Our first interview with a Battle of Britain pilot was with Allan Wright, veteran of 92 Squadron during the Dunkirk operation and the Battle of Britain.
Allan Wright was a rather spiky character who answered my first question by saying 'That's a bloody silly question!' but went on to tell us amazing stories of his time in 92 Squadron. His baptism of fire was over Dunkirk on 23 May 1940 when he shot down an Me110 and damaged two further German aircraft. He flew night patrols out of Pembrey in South Wales before they were posted to Biggin Hill and straight into the heat of the Battle of Britain.
Later on we interviewed Geoffrey Wellum at his home in Cornwall. Geoffrey's story was made famous by the publication of his autobiography First Light and he was very different to Allan. Geoffrey went out with the boys in the evenings and admitted 'Many was the time I've gone straight to dispersal having been chucked out of the White Hart at Brasted' whereas, as Allan described himself 'I've often been told I'm very serious-minded.' He remembered a conversation with fellow 92 Squadron veteran, Tony Bartley, who said 'We had to get drunk every night or else we couldn't have survived' to which Allan replied 'If I drank every night I wouldn't have survived anyway.'
So all of this book is primary source material. Apart from annotation and context all the 180,000 words are 'straight from the horse's mouth'. And without fail we have always been surprised by the interview stories. You plan a book or a programme and you know what you need the interviewee to tell you about. Invariably hindsight has told you that a particular date or action is of historical importance but often that veteran has little or no recollection of that event. Perhaps they were on leave, or a regular comment is 'it was just another day'. But the stories that do come out, the ones that provide drama, tragedy and often humour, are the ones you just weren't expecting or prepared for.
The other important thing is that we tell the stories of their RAF careers. The battles of France and Britain are put into context with their inspirations, their training, their reactions to loss and friendship. Many of these interviewees, and many more besides, had long and glittering careers in the RAF. They served all over the world, commanded units and were awarded decorations. But for a brief period, in the Spring and Summer of 1940, they came together with a shared purpose. The single characteristic that bound them all together was the need to defend their homeland and 'do their job.'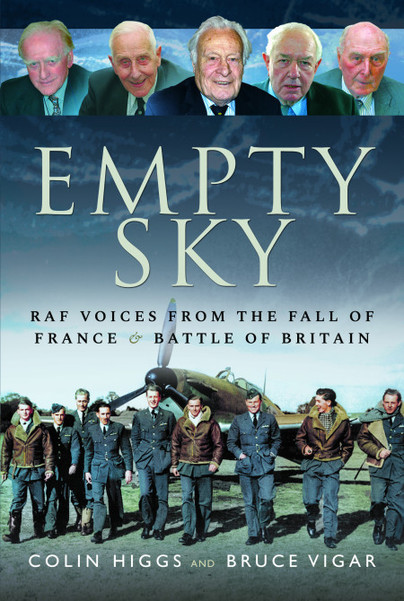 Empty Sky by Colin Higgs and Bruce Vigar is available to order from Pen and Sword Books. 
---