Author Guest Post: Zöe Wheddon
5 Things you need to know about Martha Lloyd
In my forthcoming debut biography 'Jane Austen's Best Friend, The Life and Influence of Martha Lloyd' I undertake an examination of an often overlooked, yet very special friendship. In shining a light on Jane Austen in the role of best friend we get to picture her as she has never really been viewed before. What we glean about her as a person is both riveting and heart-warming. However, as Martha Lloyd steps out of the shadows, she too reveals herself to be excellent best friend material and a very interesting woman of her time. Indeed, in researching her history I ended up really liking her very much indeed and if at the start of my journey I felt a little envious of Martha for her friendship with our beloved authoress, by the end, I felt more than a little jealous of Jane having Martha as her bestie. So, what can I tell you about Martha Lloyd to convince you to spend a little more time with her. Here are 5 things you need to know about Jane Austen's Best Friend.
Number One
Jane and Martha, right from the very beginnings of their lives, had so much in common that they could have been peas from the same pod. Both women were the daughters of clergymen brought up around the parsonage hearth and living out their lives to the rhythm of the church's calendar. Both also had dangerous brushes with illness in their childhood. Jane caught an terrible fever and Martha had the feared Smallpox. Both girls were able to revive and ultimately thrive, but both had relatives who were not so lucky.
Number Two
Martha was a dab hand at home made recipes and she was rather partial to Spruce Beer. With so many trees around in the beautiful countryside where she lived, she had plenty of the necessary ingredients on hand. With water not always a reliable source nor always renowned for its quality or purity, a beer or a wine might offer a healthier option as one's prandial beverage of choice. Honestly, who does not want a best friend who can whip up a bowl of punch or supply the refreshments for a soirée. In fact, Martha was the perfect Event's Organiser and Party Planner; super capable of putting on a spread for anything from 1-20. Martha was the sort of person we would all be booking to help cater and make all the necessary arrangements for our get togethers with family and friends.
Number Three
If ever you needed a little bit of sewing, darning, or mending done – Martha was someone in whom you could have complete faith, as Jane certainly did. This admiration of her needlework really says something as Jane was not so bad herself, equally as able to make a shirt, embroider a handkerchief or contribute to a quilt in fact. Yet Martha was so good at sewing that she sparked both Jane's admiration and imagination and readers of my book can find out just how much of a source of inspiration, humour and friendship this simple daily chore became.
Number Four
Martha was the YouTuber of her day. Well, she may not have publicly broadcast on the stage or in any periodical, but within her circle of friends, family and acquaintances, Martha's Household Book became famous. What Would Martha Do? was a mantra of the time for all who knew her. If you ever had to cure a pain or mask a smell or even win your way to someone's heart through their stomach then the recipes in Martha's Household book would have the answer. There was seemingly nothing that Martha could not help you with and what she did not know how to do was simply not worth knowing.
Number 5
In the time-honoured tradition, I have saved the best until last. The good news is Martha has her happy ending. In these times, this, is a welcome relief to all readers. In a story that would have been fit to grace any of the pages of Jane's novels, Martha goes from nearly zero to more than a hero, her esteem and happiness rise steadily and she goes from strength to strength. Her story restores one's faith in humanity and all that is right with the world. They say that 'the good guy never wins', but in Martha's case, she beats the odds and goes out on a high. In fact, the more you get to know Martha, as you follow her through the pages of my book, the louder and louder you will be cheering her on and by the end even the most restrained among us will find it hard not to shed a tear. I know I did.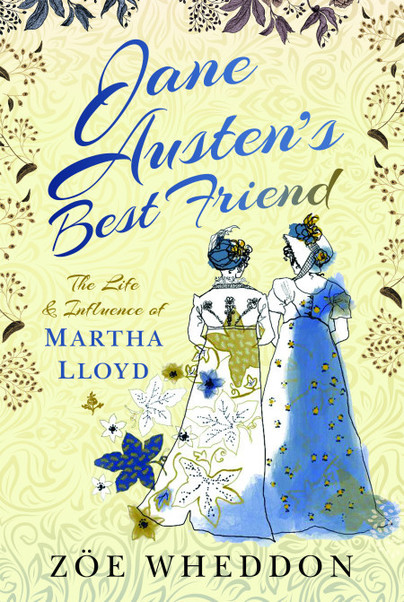 You can preorder a copy of Jane Austen's Best Friend here.
---