Author Interview: James C. Hamilton
Today we have a guest post and interview with James C. Hamilton, who has been working on the upcoming title Captain James Cook and the Search for Antarctica.
……………………………………………………
On 30th May, 2020 Pen & Sword Books will publish my book, Captain James Cook and the Search for Antarctica. The following comments explain why I chose this topic and what the book is all about.
One of history's greatest navigators, James Cook (1728-1779) is a well-known figure in British naval history, the leader of three, then-secret, world-wide voyages (1768-1771, 1772-1775, and 1776-1779/1780) which delineated the south Pacific, and reached to 70 degrees south latitude in the Southern Ocean and 70 degrees north latitude in the Arctic Ocean. His travels covered 200,000 miles and 140 of 180 degrees of Earth's latitude. In addition to Cook's journals, artists produced paintings and sketches about places visited and scientists compiled considerable natural scientific and ethnographic information and collections of artifacts often displayed in museums. Geography, navigation, and natural science are James Cook's memorials. Historian A. Grenville Price succinctly sums up Cook's achievements: "No previous navigator had contributed voyages of such length, remained at sea for such long periods, or brought back so much accurate knowledge of such an immense extent of the Earth."
Why focus on the Southern Ocean and Antarctica? Although there are many Cook biographies and studies, Cook's search for Antarctica is less studied than his navigation in the south Pacific or the Arctic. In terms of historical literature, this book is the only study that concentrates solely on the search for Antarctica, as well as his travels to Sub-Antarctic locations such as Tierra del Fuego, South Georgia, the South Sandwich Islands, and Kerguelen Island.
The book's narrative takes considerable care to put Cook's Antarctic search in historical context with Cook's travels in the South Pacific and into the Arctic. Cook's travels in the Southern Ocean were conducted during December, January, and February (the Antarctic 'summer'), the optimum months due to climate. His navigation in the south Pacific and into the Arctic occurred in other months.
What was known about Antarctica before Cook? Before Cook, Antarctica was labelled the Unknown Southern Continent, Terra Australis Incognita. Contemporary hydrologists such as Alexander Darlymple suggested that the Southern Continent was home to fifty million persons eager to trade with Great Britain. Or, perhaps Cape Circumcision (later Bouvet's Island, sighted in 1739) was the tip of the Southern Continent. It was thought the Southern Continent was located between New Zealand and the western coast of South America. Prior to Dutch navigators rounding Cape Horn, it was thought Antarctica was adjacent to Tierra del Fuego (but, it was another 600-650 miles to the south).
How did Cook search? During his first two voyages, James Cook criss-crossed a vast expense of three oceans to locate Antarctica. Historian Daniel Boostin suggests that Cook's navigation is an example of 'Negative Discovery,' sailing across many miles of ocean and ruling out locations where newly-discovered lands might exist.
What did Cook prove and conclude about his search for Antarctica? The Admiralty presented secret, written orders to Cook laying out the purpose(s) of his voyages and how/where he was to search. Cook's task was to carry out these orders and provide verification of his travels. During the first voyage the Admiralty instructed Cook that locating the Unknown Southern Continent was the 'object he was always to have in view.' He first searched for land south and west of Cape Horn to 60 degrees south latitude, but located no new land. Over the course of three Antarctic summers, Cook circumnavigated the continent at high latitudes. Cook's two ships were the first in recorded history to cross the Antarctic Circle (66 degrees, 32 degrees south latitude), a milestone he accomplished three times (January and December 1773 and January 1774), In each of his three crossings, Cook encountered an impenetrable ice barrier. By March of 1775 he concluded that the South Pole was located on the Southern Continent, out of reach by navigation. Antarctica was a continent forever locked in continual cold, ice and snow, and not habitable. Although Cook never saw Antarctica, only its ice barrier, and never landed on the continent, the concept of and maps about the Southern Continent gradually changed after the results of his navigation were known.
Cook led the way to Antarctica. In the following 150 years, (the 'heroic age of Antarctic exploration'), and initially based on information revealed in Cook's journals, others added to knowledge about the continent: sealers and whalers, navigators such as Bellingshausen and Weddell, and navigators/scientists such as James Clark Ross, Douglas Mawson, and explorers such as Roald Amundsen, Robert Falcon Scott, and Ernest Shackleton.
How is the book organized? An introduction lays out my approach to the topic. The first three chapters establish a foundation for Cook's navigation – a summary of his three voyages, the search for Antarctica prior to Cook, and the ships and crew that sailed on the three voyages.
Nine chapters cover topics such as the search for Cape Circumcision (1772), the three crossings of the Antarctic Circle (1773 and 1774), the separation of Resolution and Adventure first off Antarctica and then off the Cook Strait in New Zealand (February and November 1773), the final search for the Southern Continent in Cook's 'Pacific Tropical Sea.'

In 1775 Cook navigated the area south of Tierra del Fuego in search of Antarctica in the 'Gulf of San Sebastian,' but found no indication of land. He then sailed ESE discovering South Georgia and the South Sandwich Islands, concluding that the Southern Continent was located above 60

 

degrees

 south latitude, uninhabited, forever locked in ice and out of the reach of navigation.

In December 1776 during the third voyage he confirmed the location of the Crozet Islands and the Kerguelen Archipelago, territories discovered by French navigators in 1772, verified their locations and the suitability for safe anchorage, water, and wood.
Other chapters deal with a publication controversy after the second voyage, natural scientific information produced by Cook's voyages, a conclusion highlighting Cook's contributions, and a general summary of exploration during the 150 years after James Cook. Two appendices provide information about journals and log books and the complete Admiralty's instructions for each of Cook's three voyages. Chapter end-notes, a bibliography, and an index conclude the book. The book contains 32 colour plates and 29 figures (maps and tables).
What sources were used in researching Cook's voyages? James Cook's journals are the main source for information and extensive quotations from the journals are included in the book's text. I also include information from the log books of officers who sailed on the three voyages which provide interesting insights about the locations visited and navigation on board Cook's vessels. The log books of astronomers William Bayly and William Wales serve as additional sources as do the journals of natural scientists Sir Joseph Banks, J. R. Forster, and George Forster. I also reference work by artists who accompanied the voyages whose sketches and paintings were the world's first glimpses of Antarctica. Because I am a philatelist, I also include images of a dozen examples of postage stamps issued to mark Cook's achievements.
Why publish this book in 2020? The years 2018-2029 mark the 250th anniversary of Cook's three voyages.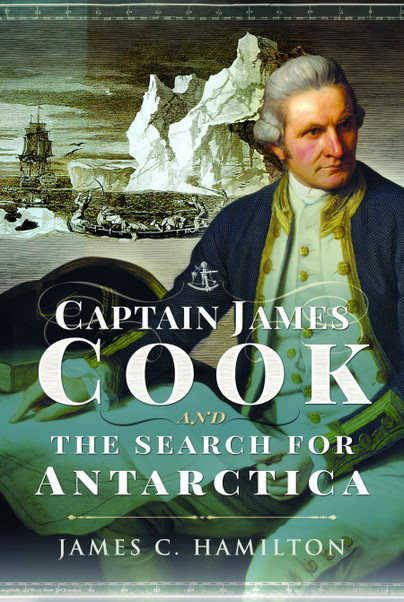 Captain James Cook and the Search for Antarctica is available to preorder now.