Britain's Tramways: West Midlands Metro – Gareth David
To mark the publication of my new book – a history of Croydon (London) Tramlink – this is the first in an occasional series taking a look at Britain's urban light railways, and begins with a visit to Birmingham and a trip on its fast-expanding West Midlands Metro.
The system that was originally known as Midland Metro opened almost exactly a year before Tramlink, on 30 May 1999, and there are a number of parallels in the history of the two systems, both making extensive use of former railway alignments and both suffering from financial difficulties in their early years.
Unlike Tramlink, however, West Midlands Metro is expanding well beyond its original core route, a 12½-mile line from the city centre in Birmingham to Wolverhampton that for most of its route follows the course of the former Great Western Railway main line from Birmingham Snow Hill to Wolverhampton Low Level.
Since December 2019 trams that had been terminating alongside New Street station in Central Birmingham (Grand Central) have continued on under battery power to serve new stops at the Town Hall and at a stop called Library in Centenary Square, in front of the large International Convention Centre (ICC).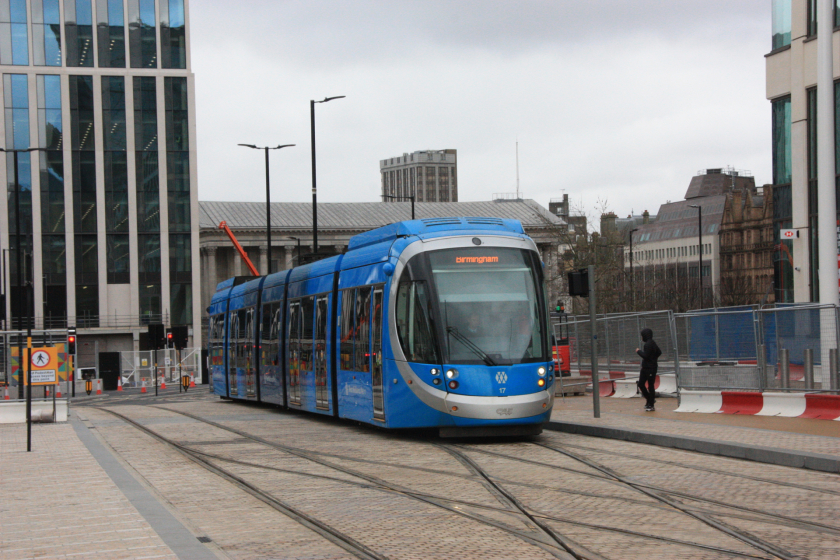 What is known as Line 1 of the West Midlands Metro had originally terminated at Snow Hill Station in Birmingham, but was extended to the stop known as Grand Central in June 2016. That gave an immediate boost to ridership, which had been stuck at around 5m passengers a year for the previous 15 years, but reached 6.2m in 2016/7.
Extension to Centenary Square is the penultimate stage of extending Line 1 in Birmingham, with track-laying now taking place on a continuation of the route along Broad Street, passing through the underpass at Five Ways, with stops at Brindley Place and Five Ways, before terminating at Hagley Road (Edgbaston). It is due to open in December 2021.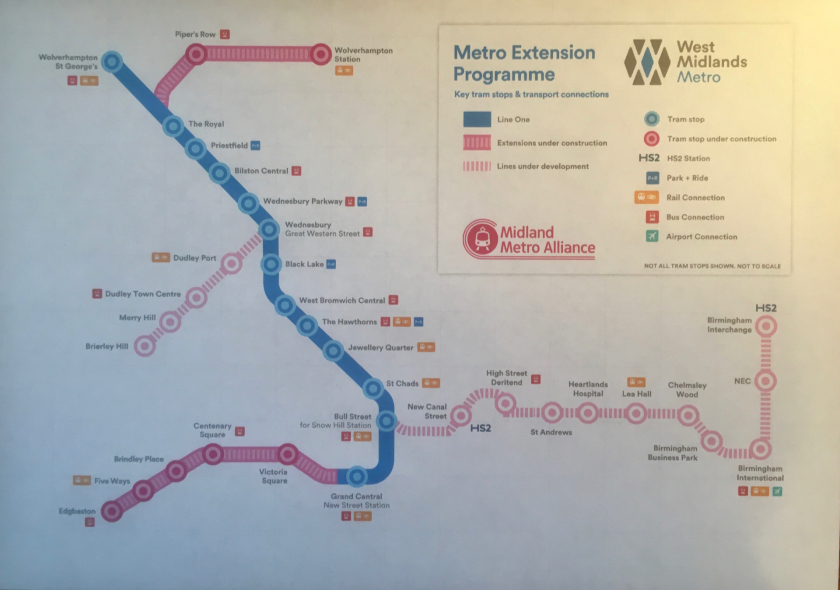 At the northern end of the route in Wolverhampton another extension to Line 1 is also nearing completion. This will take alternate Wolverhampton-bound trams off the existing route shortly before the current terminus at St George's, to serve new stops at Piper's Row and Wolverhampton railway station and is due to open later this year.
But these extensions to Line 1 are far from being the only expansion plans for the Metro, as the map above illustrates. Earlier this year work began on a new 6.8-mile Line 2, which will take trams from the existing route at Wednesbury Great Western Street – its depot and HQ – and will make use of more former railway alignment, in part, to reach Dudley town centre, Merry Hill Shopping Centre and Brierley Hill.
On an even more ambitious scale than Brierley Hill are plans for a eastern extension to Line 2, that would diverge from Line 1 at Bull Street in Birmingham city centre, heading past the planned HS2 terminus at Curzon Street and going through an important residential area at Chelmsley Wood to Birmingham International station and terminating at the planned new Birmingham Interchange station on HS2.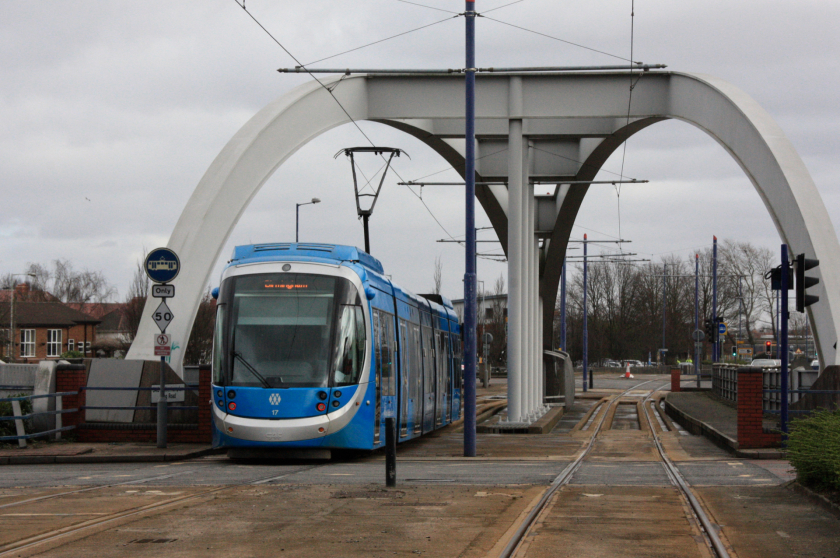 A trip along the 28-stop route of the current Line 1 takes around 45 minutes and gives an interesting perspective on this part of the region. Setting out from the new and temporary terminus in Centenary Square, the trams descend under battery power and bear right onto Broad Street and along Paradise Street before passing Victoria Square where there is a stop (Town Hall), then bear sharply right into Pinfold Street and onto Stephenson Street, alongside New Street station.
Leaving the Grand Central stop in Stephenson Street, trams take a sharp left turn into Corporation Street, then another left into Bull Street, before a short section of grassed track on the approach to St. Chads, alongside Snow Hill station. The route then follows the cross-city rail route, with interchanges at both Jewellery Quarter and The Hawthorns, before the rail route towards Stourbridge diverges to the left.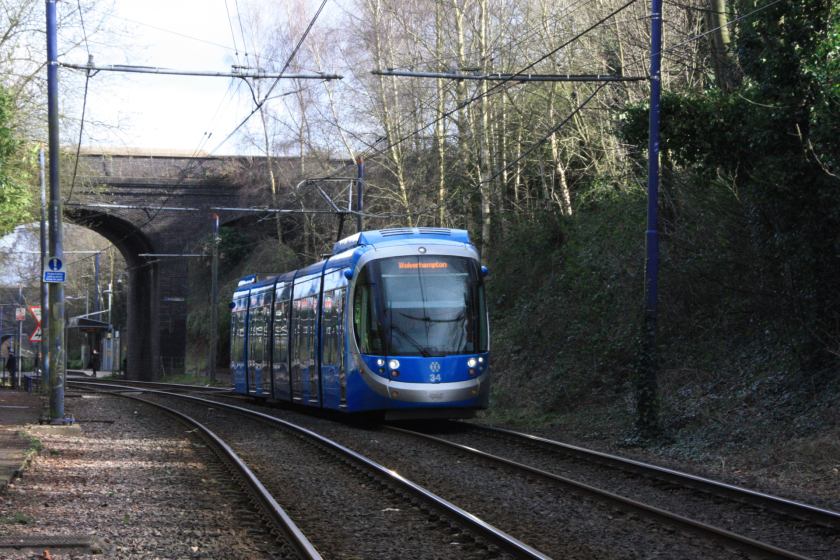 From here as far as the Priestfield stop there is very much a feel of being on a former railway line, with much of the route in a broad and sometimes deep cutting and most original bridges and lineside brickwork remaining. It is pleasantly rural in parts, with a path running alongside the line for part of the way, including the stretch I walked between the Lodge Road (pictured above) and Dartmouth Street stops.
Beyond the Priestfield stop trams ascend on a left hand bend off the old railway alignment and onto the busy Bilston Road – the line's only real section of traditional street running – towards a stop called The Royal and finally to the single platform terminus at St. George's in Bilston Street. Just before this terminus the new tracks leading along Piper's Row to the railway station diverge to the right.
Unlike Tramlink in Croydon, the West Midlands Metro was developed as a public sector project, although initially, and unsuccessfully, operated by the private sector, latterly by National Express, which also operates most of the region's bus network. Since October 2018 it has been run by Transport for West Midlands, part of the West Midlands Combined Authority, and a new logo and blue livery adopted.
There is a daytime frequency of 10 trams an hour along Line 1, which is operated by the network's 21-strong fleet of Urbos 3 trams that were built by Spanish rolling stock manufacturer CAF and entered service during 2014-6. This fleet (numbered 17-37) replaced the network's original 16-strong fleet of Ansaldobreda T-69 vehicles (1-16), which have all now been withdrawn, and have a capacity of 208 passengers.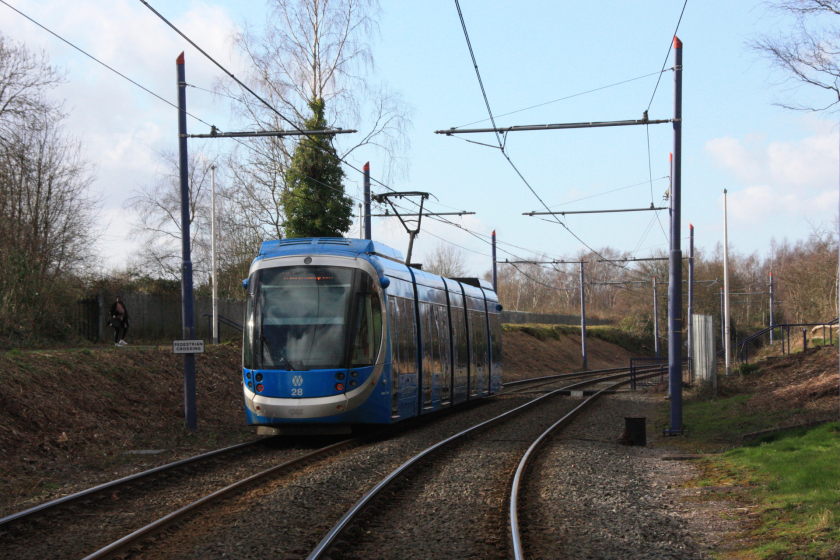 Taking a trip along the line and alighting at various points along the way, I had bought an off-peak day ticket for a very reasonable £4.40, with an even more attractively priced family ticket costing just £5.00. Single and return fares are also available from on-board conductors, who happily accept cash, although many regular travellers have contactless "Swift" cards which can store season tickets and offer a slight discount to the cash fares.
For more photos of West Midlands Metro, and of the UK's other light rail networks, take a look at www. Britishtramsonline.co.uk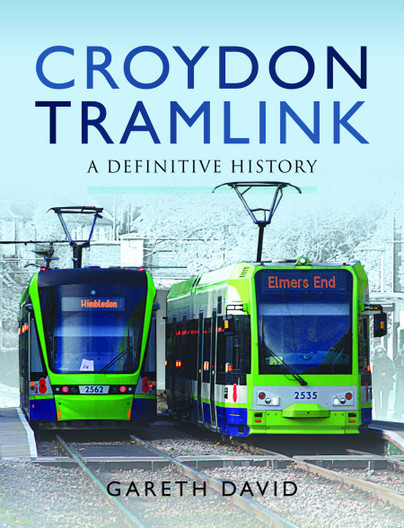 Croydon Tramlink is available to order now from Pen and Sword Books. 
---