Ladies of Magna Carta – Blog Tour Round-Up
We've had so much fun organising and following the blog tour for Ladies of Magna Carta by Sharon Bennett Connolly.
We want to say a big thank you to Sharon for all her support in putting together the tour, her fascinating guest posts and for sharing news of the tour far and wide!
We also want to say a massive thank you to all the lovely bloggers who were involved. We've loved reading all your posts!
If you've missed any of the stops along the way, you can read them again here.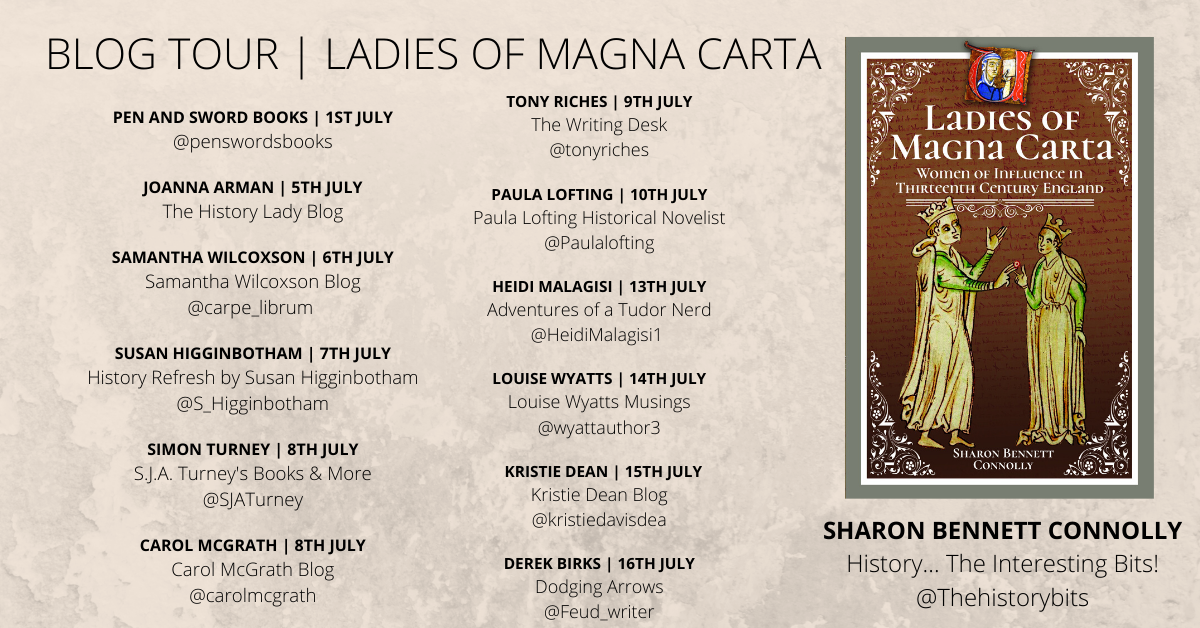 Pen and Sword – Author Guest Post
The History Lady Blog – Book Review
Samantha Wilcoxson Blog – Author Guest Post 
History Refresh – Author Guest Post 
S.J.A. Turney's Books & More – Book Review
Carol McGrath Blog –  Book Review
The Writing Desk –  Author Guest Post 
Paula Lofting Historical Novelist – Book Review 
Adventures of a Tudor Nerd – Book Review
Louise Wyatts Musings –  Author Q&A
Kristie Dean Blog –  Author Guest Post
Dodging Arrows – Book Review
……………………………………………………………………….
-"This book is another fascinating and eye-opening work and anyone with an interest in the subjects of Medieval Women, British History, or the legends of King John and the Magna Carta should be rushing out to get their copy." – S.J.A. Turney's Books & More
-"Ladies of the Magna Carta is an exceptionally accomplished work, so readable and gripping, it was unputdownable, a great accolade for a work of Historical Non-Fiction… It's a scholarly book, thoroughly researched, detailed, beautifully written, empathetic, and accessible. If you read no other nonfiction this summer, read this one. Highly recommended." – Carol McGrath Blog
-"Ms Connolly is an accomplished writer of enormous strength. Her attention to detail and her particular interest in highlighting her character's genealogy and where they sat in the intertwined threads of the nobility of the time, allows the reader an insight into their minds thus enabling a personal evaluation of how this influenced their actions, their views, and their feelings. What more can a lover of history ask for than to be entertained, enthralled and educated all in one go?
ALL I CAN SAY MORE IS THAT IF YOU DON'T READ THIS BOOK, YOU ARE MISSING OUT!" – Paula Lofting Historical Novelist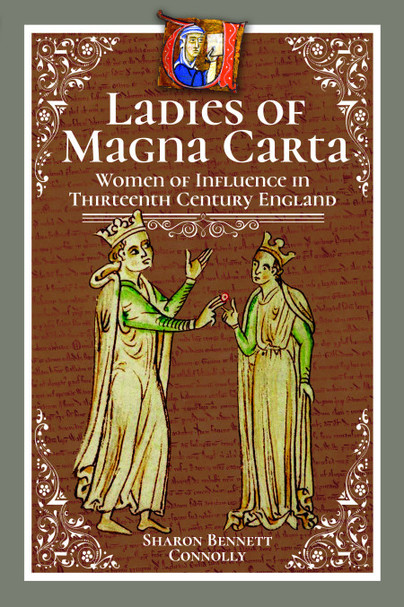 You can order a copy of Ladies of Magna Carta here.
---