A Tribute to Nellie Bly on International Women's Day
Guest post from author Rosemary J Brown.
Trailblazing journalist Nellie Bly didn't just talk about women's rights; she lived them. At a time when women were expected to 'know their place', Nellie Bly thrust open doors usually closed to females.
She defied convention to pioneer investigative journalism, circle the world faster than anyone ever had and become a leading business woman. Throughout her career, Nellie's reporting gave voices to the voiceless and vulnerable.
In celebration of the life and legacy of Nellie Bly — I followed in her footsteps around the world on the 125th anniversary of her voyage. Both of our journeys are recorded in Following Nellie Bly: Her Record-Breaking Race Around the World.
It's now 132 years since Nellie Bly raced through a 'man's world' —  alone and literally with the clothes on her back — to beat the fictional record set by Jules Verne's Phileas Fogg in Around the World in 80 Days. Seventy-two days later, she broke the record for the fastest trip and became a global celebrity. In re-blazing her global trail, my goal was to get her 'back on the map.' In an era when synthetic celebrities vie for our adoration, I felt we needed a genuine heroine to look up to, someone who defied convention, achieved the impossible and championed society's most vulnerable.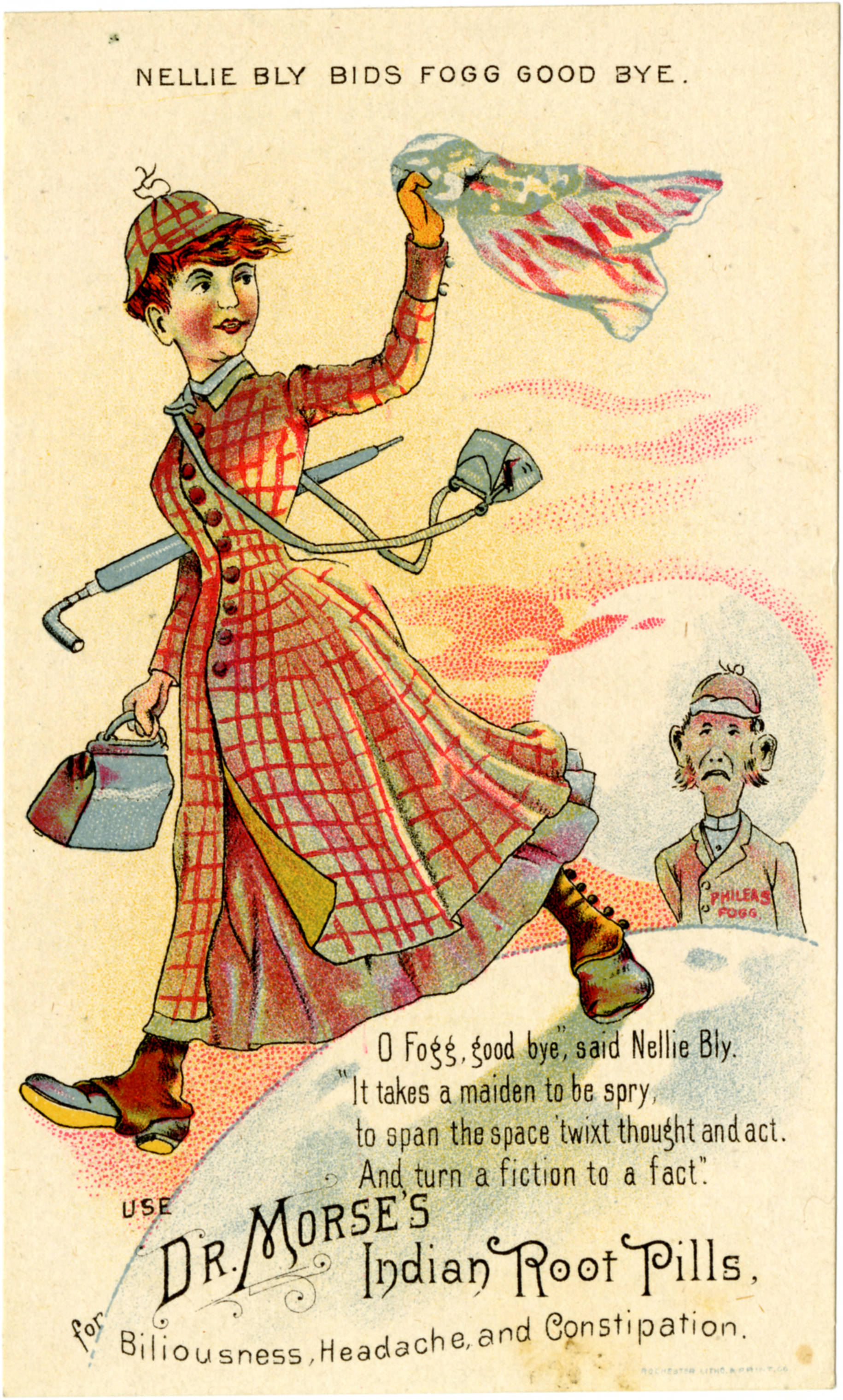 Childhood
She was born Elizabeth Jane Cochran in 1864 in western Pennsylvania. Nellie Bly was her nom de plume because female journalists could not write under their legal names in her era. She was the thirteenth of 15 children in a family headed by Michael Cochran, a mill owner and county judge. Nellie was only six when her beloved father died without warning, and without a will, which plunged his once wealthy and respected family into poverty.
The indignity borne by her family forged a determination in Nellie to triumph over tragedy and fight for justice, especially for the most vulnerable.
Journalism career
Her journalism career was launched after an outraged Nellie, 19, wrote a letter to the Pittsburgh Dispatch lambasting a column claiming that women belonged at home and certainly not in the workplace. The furious letter attracted the editor's eye and he hired Nellie as a reporter.
By 1887, she had worked her way up to The New York World. In her first and most astonishing assignment she convinced authorities that she was crazy and spent 10 days inside the women's asylum on Blackwell's Island, now Roosevelt Island.
Nellie's accounts and her book Ten Days in a Mad-House unleashed sweeping reforms. This was the dawning of investigative journalism and Nellie Bly was its pioneer. These exposés brought much acclaim and indeed for me they are her crowning glory, but the story that was that would make her the most famous woman in the world is the one recounted in my book. Here are some highlights:
Record-breaking race
A world trip aimed at beating Phileas Fogg's 80-day record was Nellie's idea. When she presented it to her editor he said he would have to send a man. Nellie challenged him and won. When she boarded the transatlantic steamship, the SS Augusta Victoria, on 14 November 1889 Nellie Bly had never sailed before. Eight days later she was in England.
In London, she had just four hours to obtain an official passport from the American Legation, visit The World newspaper's London office, and get herself to the P&O Steam Navigation Company to buy tickets covering half of her world journey. She did it — just.
In the early days of the race Nellie was invited by Jules Verne, the author who inspired her own voyage, to visit his home in Amiens, France. This time-guzzling deviation threatened her success and meant two nights without sleep. She took the risk. Nellie, Jules and Honorine Verne became instant friends. Her visit in 1889 lives on today in references found in the Maison Jules Verne, an international museum.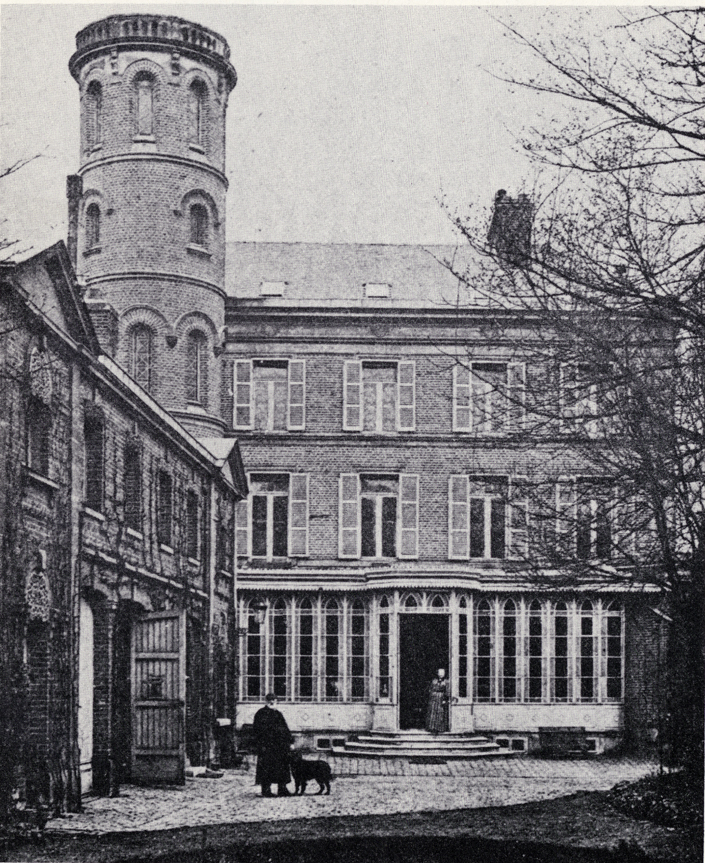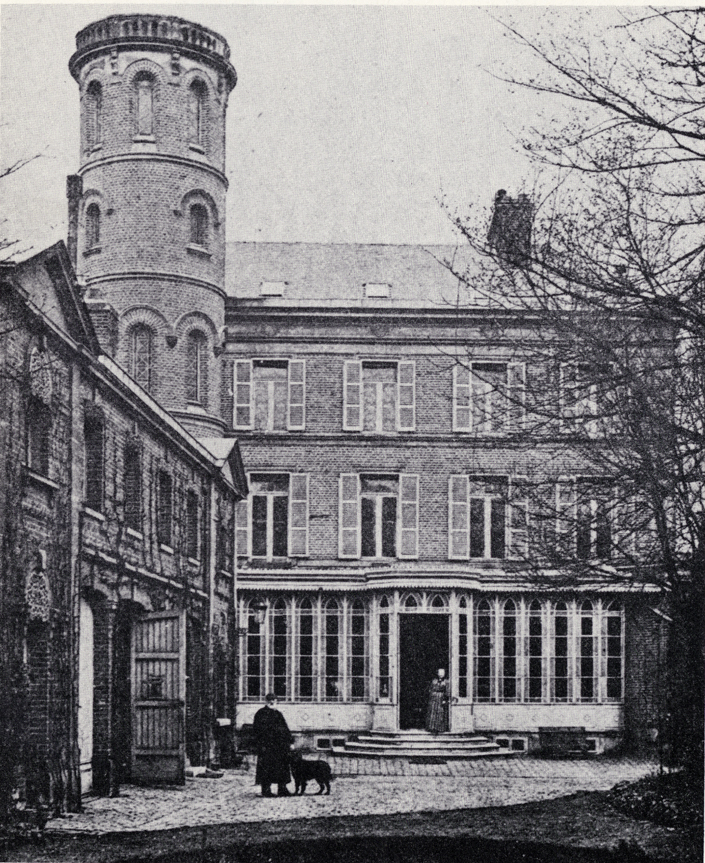 Canton, China, today's Guangzhou, totally enthralled Nellie, and me. She was entranced with torture and death – on Christmas day she visited a leper colony and ate her lunch in the Temple of Death.
Nellie loved Japan. "I found nothing but what delighted the senses while in Japan," she wrote. She travelled to Kamakura, about 30 miles outside of Tokyo, to see the great bronze Buddha Daibutsu, one of Japan's leading icons.
There were only two places in my entire journey where I could be certain that I was standing where Nellie stood. The first was the in home of Jules Verne where I shared his salon and study with Nellie.  The second was inside the Great Buddha, Daibustu. When Nellie visited, she climbed a ladder up to Daibutsu's eyes. I only could go as far as his tummy.
From Japan Nellie sailed the Pacific and took trains across America. She was cheered by thousands who gathered in their Sunday best at stations along the way… Albuquerque, Chicago, Pittsburgh, Philadelphia.
When she reached Jersey City, New Jersey she had achieved 'the most remarkable of all feats of circumnavigation ever performed by a human being,' said The New York World who proclaimed her "the best-known and most widely talked-of young woman on earth today."
After the race
Nellie Bly married millionaire industrialist Robert Livingstone Seaman. She was named president of his firm the Iron Clad Manufacturing Company and became one of America's leading women industrialists. She instituted fair pay and well-being benefits for workers, streamlined production methods and patented several inventions there. Sadly Iron Clad filed for bankruptcy in 1911 after company funds were embezzled by employees.
Nellie left America for Europe in 1914 and became the first woman reporting from the Eastern Front – Serbia and Austria – in World War One. Returning to America in 1919, she wrote for The New York Evening Journal, running newspaper campaigns for vulnerable people and abandoned children until her death in 1922.
She's back
The true culmination of my quest to get Nellie Bly 'back on the map' took place on 10 December 2021, when The Girl Puzzle, a monumental installation honouring her life and legacy, was unveiled on Roosevelt Island. Nellie Bly's iconic role has at last been acknowledged in this remarkable commemoration by artist Amanda Matthews of Prometheus Art. Ground-breaking in many ways, the Girl Puzzle also helps to address a shocking imbalance — less than 8 percent of statues in America commemorate women.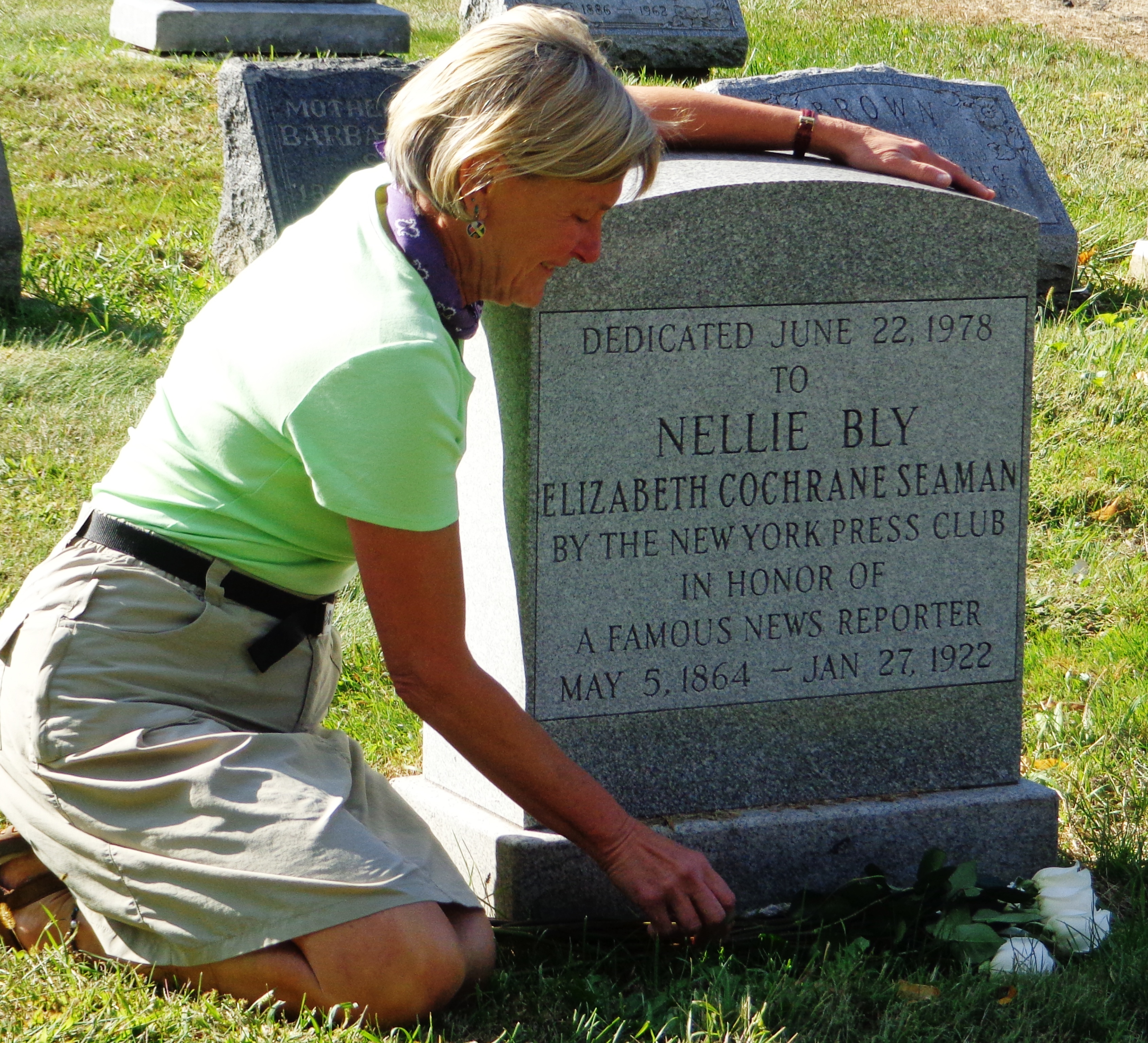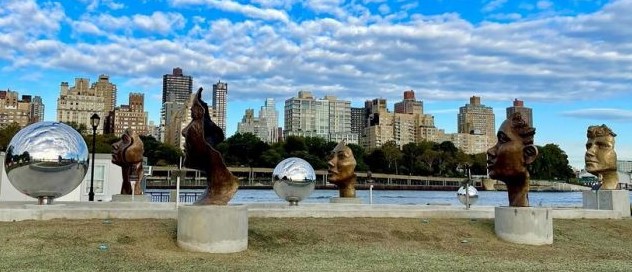 …………………………………………………………………………………………………..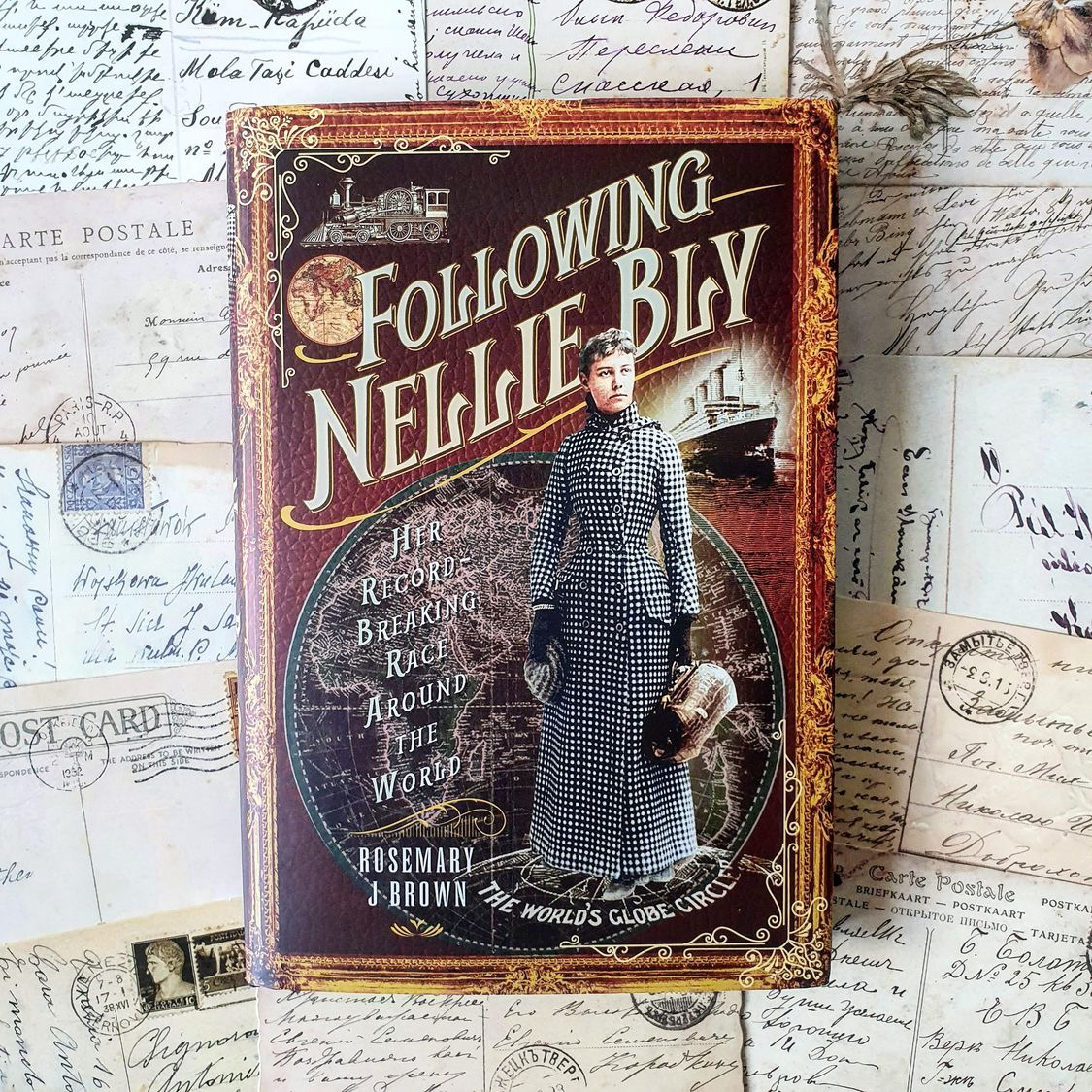 Following Nellie Bly is available to order here.
---