Author Guest Post: Rosalind Anderson
Meet the Murrays
The Family Behind the Jacobite Rising of 1715
When it comes to personalities and drama, the Jacobite Rising of 1715 is often seen as the poor relation, compared to the '45. There is no Bonnie Prince, no decisive battle and no catchy boat song! However if we look closer at the lives of one influential Scottish noble family and their relations, we find more melodrama than an episode of Coronation Street. So……. meet the Murrays!
'I hope you have as little to do with my Lady Nairne as possible for there cannot be a
worse woman. I impute the ruine of my three sons to her artifices.'
In a letter from the head of the Murray family, the Duke of Atholl, to his only loyal son, James Murray, Atholl clearly blamed his sister-in law Margaret Nairne for turning his other sons' heads. But Margaret had, for a long time, been a tower of strength to both the Duke and his wife Katherine Hamilton until the Duchess' untimely death in 1707. A Jacobite of her own volition, as well as in support of her husband, William Nairne, the Duke's brother, Margaret wasn't the only relative influencing the young Murray brothers.
Duke Receives Support From Hamilton Family
After his wife's death, Atholl turned for support to Katherine's mother, the Dowager Duchess Anne Hamilton. A powerful and significant matriarch in Scotland, her family role became chief negotiator between her grandsons and their parents, this intensified after 1707. Anne enlisted the support of her own sons, including the Earl of Selkirk and Earl of Orkney, prominent members of the Scottish elite, to help keep their nephews on track, but ultimately their efforts were to fail.
Atholl Feud With Simon Fraser, Lord Lovat.
The Murray family were based in Perthshire, owning large amounts of land in both Highland and Lowland Scotland, an area which was crucial to the success or failure of any rising. The Murray children were brought up to have a strong sense of duty and pride in the family and their position in society. A powerful magnate, the Duke of Atholl took his responsibilities very seriously to both his tenants and his family but also, specifically, to the reputation of his family. This was shown in the dramatic ongoing feud with Simon Fraser, Lord Lovat, which dominated the social scene in Scotland for many years and led to Fraser being forced into exile. These two men detested each other, the Duke often referring to Lovat as a villain and even the 'villain of villains'.
The Murray brothers William and George are well known as Jacobites, in the '45, but their role in the Rising of 1715 has received less attention and few have heard of the third brother Charles whose role in this Rising was not insignificant. However, before these brothers had even considered rebelling against their father's wishes, that path had been well trodden by their eldest sibling Johny.
Johny, the Heir and the Rebel Brothers
Tall, handsome, with an ability to charm, Johny was the darling of both the Murray and Hamilton families, until he went off the rails, deciding that being the heir to vast amounts of responsibility and duty, wasn't the role for him. His parents were left devastated when they discovered his actions and too ashamed to admit to their peers, that their own son and heir could so wilfully have ignored their wishes and lied to them. Sadly, his choice had a tragic ending which shocked the people of Perthshire as well as his extended family.
With their mother and eldest brother dead, the younger brothers were expected to toe the family line, but almost immediately it was clear that wouldn't be the case. William was very reluctant, he was more interested in a life in London, where his uncle, the 4th Duke of Hamilton, had influence. But that relationship was cut short when the Duke of Hamilton was killed in a duel. Atholl also failed to recognise the needs of his younger sons and Charles turned against him in a bitter war of words.
Out of the three brothers it was George, the future Jacobite General, who received the most support and seemed most content, briefly settling in London to work on behalf of his father. Which was why in 1715, when Atholl got the news William had joined the Earl of Mar at Braemar, he was unaware that George had gone with him and for some time afterwards seemed reluctant to believe it.
Protecting his castle at Blair, Atholl stayed put throughout the Rising, doing what he could to assist the Duke of Argyll in Stirling, by keeping him informed of rebel activity. Argyll however was suspicious of his loyalties and didn't believe a word. Meanwhile, William and George took over the family property at Huntingtower and Charles joined the army heading south to Preston.
Battles at Sheriffmuir and Preston
There were two main battles in this Rising: Sheriffmuir in Scotland, and Preston in England, both taking place in November. William led troops at Sheriffmuir, which was indecisive, though both sides claimed victory and made it back to Huntingtower. George wasn't at the battle: he was sent to collect money and supplies in Fife, but in Preston Charles was one of the officers captured and taken prisoner by government forces.
Under close guard, having already attempted to escape, Charles was given the chance to plead to his father for his life, as he was to face a court martial, with a sentence of execution if found guilty. Atholl's reaction was instinctive and decisive but would tear the family apart.
George Return From Exile
Ultimately however, and despite blaming Margaret, Atholl made great efforts to help many members of his extended family, including the Nairnes, while maintaining his own position with the government as Lieutenant of Perthshire. Some years later he was instrumental in obtaining a pardon for his son George, then in exile with William. George returned, in secret, before the pardon was officially given, so that he was able to see his seriously ill father in August 1724, just three months before Atholl died.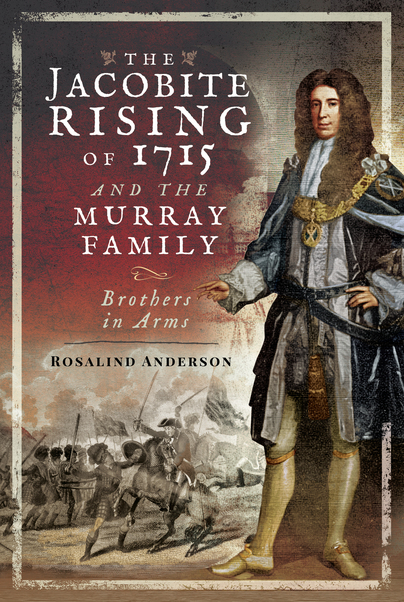 You order a copy here.
---