Unsolved London Murders: The 1920s & 1930s
Guest post from author Dr Jonathan Oates.
Victims
It is often the case that victims in murder cases are overlooked; being dead they have no physical voice. Rather it is the killers, who, if caught, garner the lion's share of the publicity and even sympathy. They are interviewed by detectives, examined by magistrates, appear in court and may give interviews to the press. However, it is the victims that should deserve our attention, too, and certainly the bulk of our sympathy. We shall now examine three young female murder victims of the inter-war years; Vera Page and Louisa Steele, murdered in 1931 and Irene Munro, murdered in 1920.
Vera Page was but ten years when she was found strangled in the grounds of a house in Addison Road, Kensington, on 16 December 1931. There was little that could be said about her because at ten years old she had done very little in her young life. One achievement was to be awarded swimming certificates from school and after collecting these from her aunt, never returned home. Naturally when a child is killed, great sympathy is expressed by all, especially, as in this case, there was a sexual element to the crime. Mrs Newton, her headmistress, declared, 'She was one of the most likeable girls in the school'. Miss Davis, mistress of Vera's class, said 'Vera was a little dear. She was an excellent girl, good at her lessons, and good in her character'. At the funeral service the vicar discussed the characteristics of the dead girl; that she was faithful and loyal, tried to do her best in her school life and to help others. She was friendly and never got into trouble. She was good natured and supportive of others. Faithful, friendly and responsible were her characteristics. Regrettably though a suspect emerged, there was insufficient evidence to charge him. Vera is little known but uncontroversial.
It is different when a young woman is killed. Louisa Steele, an 18 year old servant who lived with her employers in Lee, was found dead on nearby Blackheath on 23 January 1931. Her parents and employers were naturally grief stricken. A neighbour told journalists 'Louise was very fond of the little girl an spent her whole evening at home. Louise was a girl full of life but I don't think she had a sweetheart. She was very devoted to her family which included two young brothers…Louise often said she would never go out with any boys'. She had attended Burgage Road school in Woolwich had worked as a servant in Bexhill and then at 72 Lee Road from 1929-1931, but, as friendless as she seems, was otherwise an enigma.
What is of note is what was said during the inquest. The coroner concluded thus:
'Mr [Superintendent] Cory told me that the police in their investigation had gone most completely into the past life of this girl. Sir Bernard Spilsbury told us she was a virgin and had not been violated. When anything happens to a young girl like this, gossip is very likely to draw wrong inferences, and we have these facts before us, that she was a girl whose mistresses had a very high opinion of her, and whose past has stood the concentrated attention of experienced officers of the police for three weeks. I think perhaps that should be said, because often idle gossip does injury to the character'.
Clearly there were some who thought that Louisa's private life was of paramount importance to the case, and even that, despite being murdered, her reputation was on trial. No one was ever convicted of her murder but a man convicted and gaoled for another murder confessed and seemed to know far more about this case than could be gleaned from other methods.
Finally we come to Irene Munro, a seventeen year old typist. Unlike the last two girls, she emerges from the mass of evidence as a fully rounded character which all but the most hard hearted or moralistic must sympathise with. In part this is because she kept a diary and wrote (and received) letters and postcards, some of which survive. She was also highly sociable and worked in an office and we know more about her than her rather commonplace and vicious killers.
Yet the press felt it necessary to expose her private life and her romances with a middle aged Belgian businessman and her own boss. Neither was connected to her murder; she was killed by chance acquaintances. One of the doctors examining her corpse also made what seem now as rather outrageous and certainly irrelevant comments about her as being, 'over sexed and slightly abnormal', hinting at both promiscuity and bisexuality, neither of which are true.
Those writing about the case, often female, have often made disparaging remarks about her as being the cause of her own murder in that she chose to go with two young men on a walk to a lonely part of the Eastbourne beach. Since she had already spent two days in their company without any untoward incident occurring, there was no obvious reason why she should not do so.
The victims of murders are often the subject of innuendo and blame, when they should be the objects of sympathy. No one sets out to be killed. Most important is that 'victims' are seen as human beings. This can be difficult when information is lacking about them, and this is most common when they are young and little has been recorded about their lives.
More can be learned about these cases in the author's books; respectively, Unsolved London Murders: 1920s and 1930s, Foul Deeds and Suspicious Deaths in Lewisham (published by Pen and Sword) and Irene Munro and the Beach Murder of 1920 (published by amazon). A fuller account of the first two murders is forthcoming.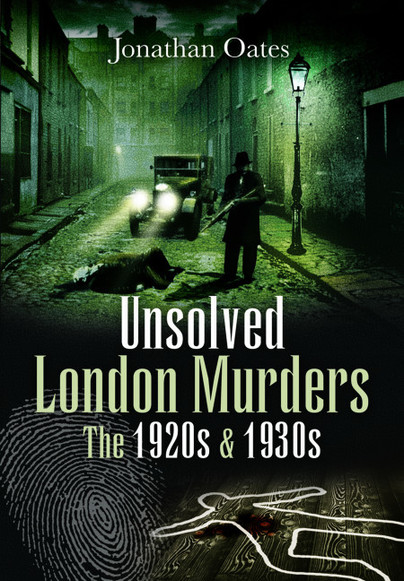 You can order a copy here.
---