Guest Post: Michael Ford – Hunting the Last Great Pirate
A bit of background as to why I wrote the book
My maternal grandfather, Alexander Kinsey, was one of thirteen children born and raised in a large house in the leafy London suburb of Merton in the 1890s. Around that time, his father – my great grandfather – was a civil engineer by profession and accepted a post to advise on the expansion of the Port of Durban, South Africa. With his wife and brood of children they set sail for the lengthy sea voyage to Durban.
At the time, South Africa was a lawless place: the Zulu war of 1879 had been fought by native armies equipped with assegais and cowhide shields against white settlers. Then, from 1899-1902, the Anglo-Boer War was waged between British soldiers supporting the English settlers against Afrikaner settlers of Dutch descent. It was only due to the large numbers of British troops and munitions shipped out to them from England that the Boers were defeated after a series of deadly battles. Little wonder that after such bloody conflict, my mother – born to staunchly English parents – yearned to know more about her 'home' country of England, of which her parents spoke with such warmth and affection.
Many years later, after I married and settled in England, I resolved to research my family history here which led me to a remarkable Yorkshire ancestor of mine, James Bentley. Born in 1786 in Scarborough, Yorkshire, the son of poor Quaker parents, as a boy of barely nine years of age he set out to walk to London with little money in his pocket and somehow survived the daunting journey. Once there, he obtained employment as a cabin boy and later joined a coaster engaged in carrying coal down the east coast of England. Some years later he became a part owner of a coal ship. He prospered and by 1816, aged 30, Bentley had acquired a considerable shipping fleet engaged in the coal trade. Through his Scarborough Quaker connections, he would have purchased many of his vessels from Tindalls' shipyard. He then joined forces with another Yorkshire ship owner, Goland Burton, and later married his daughter, Ann.
My research into James Bentley revealed that later in life, having made his fortune from shipping, he acquired estates across England before becoming a benefactor of St Bartholomew's Hospital in London. During my research, I telephoned the secretary to the Hospital Administrator, enquiring whether, perchance, there were any surviving records of James Bentley in hospital archives. The answer was in the affirmative and then, the secretary explained, that the timing of my enquiry was fortuitous because only the previous week she had received a call from the Administrator of the old Bentley & Burton shipping company which was being wound up. Because I was researching family history, she offered to let me have the contact details. When I called, I was informed by the gentleman answering the 'phone that he was acting on behalf of the Administrators to wind-up the remains of the old Bentley & Burton shipping company in London.
I was invited to visit an office down a narrow, cobbled lane off Borough High Street, south of the River Thames. What was left of a once-thriving late 18th century English shipping company founded by my distant ancestors, was then in the process of being wound-up by Administrators and had been stripped bare. The official in charge invited me to help myself to any old historical letters or documents I might find of interest. There was a formal portrait of James Bentley hanging on the wall of a back office which I could purchase for a nominal price. Piles of early merchant sailing ship records going back centuries, once fastidiously maintained by the firm's shipping clerks, were in boxes piled high in the corner of the disused office.
I searched through these old papers for several hours gathering an insight into the running of this once very successful shipping company. What caught my eye was an account of the company's own enquiries into the 'Morning Star' scandal which made fascinating reading. The Administrator was more than happy for me to take these documents and any others I felt might be helpful or relevant and, for an agreed sum I was able to purchase James Bentley's portrait hanging on the wall.
And so it was my research switched from my family history to unravelling what happened to 'Morning Star' in the late 1820s and, in so doing, I also discovered the true story of the Yankee 'Topaz' as well. And the infamous role that Benito de Soto played in their fates.
Michael Ford
June 2020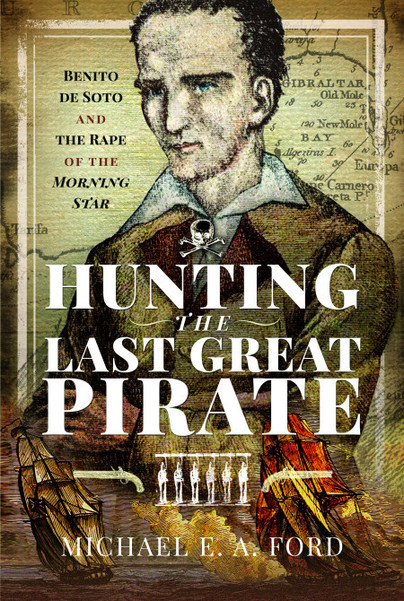 Hunting the Last Great Pirate is available to order now from Pen and Sword Books.
---