Author Guest Post: Paul Hooley
Nuremberg's Voice of Doom and The Undercover Nazi Hunter are two unique books based on the extraordinary memoirs, life, times and involvements of WOLFE FRANK Chief Interpreter at 'History's Greatest Trials' and intrepid undercover reporter for the New York Herald Tribune – as compiled, edited and expanded upon by PAUL HOOLEY who writes:
In 2015 I stumbled across a gem of a historical archive, which had remained undisturbed in a Dorset attic for 25 years following the author's death. A quite extraordinary chain of events ensued that led me to give up three years of my life to produce two books based on the life, times and memoirs of the author, Wolfe Frank, who had been Chief Interpreter at the Nuremberg international trials of Nazi war criminals. He later became an undercover reporter for the New York Herald Tribune, during which time he single-handedly, tracked down, arrested, interrogated and took the 'Confession' of the 'missing' Nazi general ranked fourth on the Allies 'Most Wanted' list – the officer Heinrich Himmler had earmarked to head the SS in Great Britain if Germany won the war.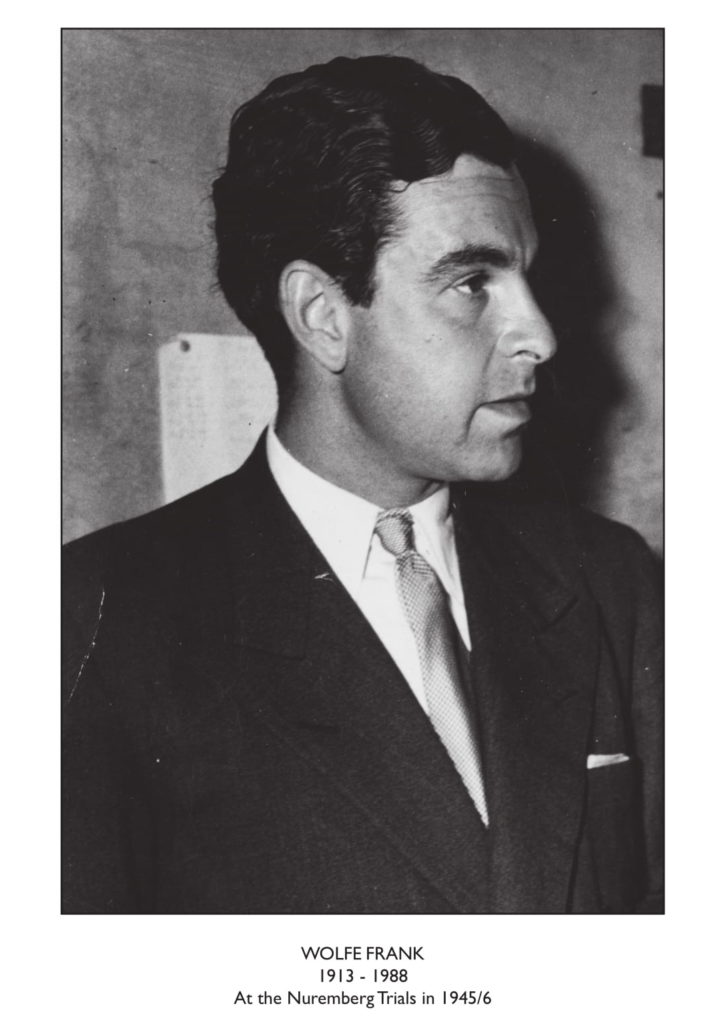 The first of the two books, both recently published by Frontline/Pen & Sword Books, is entitled Nuremberg's Voice of Doom. This is a unique and highly moving behind-the-scenes account of all that happened at Nuremberg – 'the greatest trial in history' – as seen through the eyes of a witness to the entire proceedings and includes important historical information never previously revealed.
In an extraordinarily explicit life story, Frank includes his personal encounters with Goering, Ribbentrop, Keitel, Ley, Speer, Hess, et al – inside and outside the courtroom. This book therefore is a unique record that adds substantially to what is already publicly known about the trials and the defendants.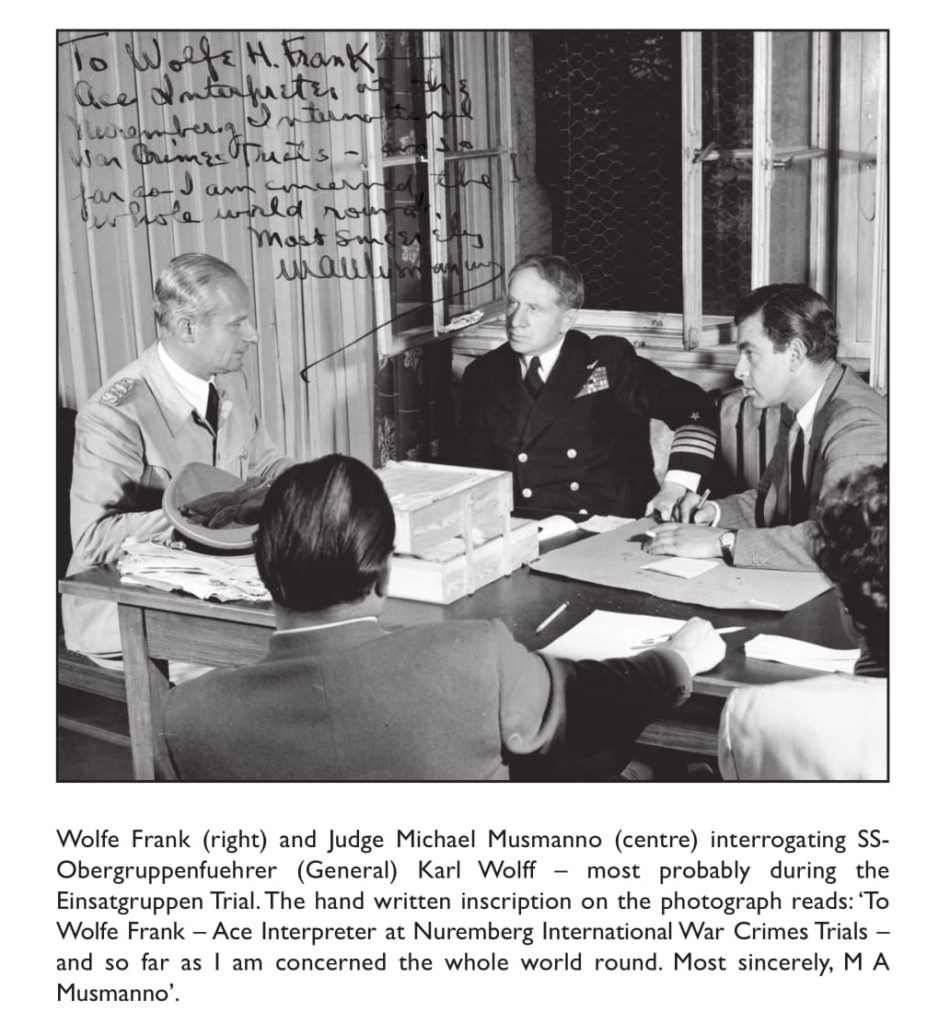 Involved in proceedings from day one and used more than any other interpreter, Frank translated the first piece of evidence and concluded the trials by announcing the sentences to the defendants (and several hundred million radio listeners). This earned him the soubriquet 'Voice of Doom'. As an interrogator, he drew many confessions out of the war criminals including Otto Ohlendorf's admission to 'humanely' killing 90,000 Jews with his mobile gas chambers.
Prior to the war Frank, a man of Jewish descent, was a Bavarian playboy who (for over three years) managed to avoid giving the Nazi salute, even on the many occasions he was in Hitler's presence. He was also an engineer, a resistance worker, a smuggler (of money and Jews out of Germany) and he was declared to be 'an enemy of the State to be shot on sight'.
Having escaped to Britain and been interned at the outbreak of war he successfully campaigned for his release and to be allowed to enlist in the British Army – in which he rose to the rank of Captain. Unable to speak English prior to his arrival, by the time of the Nuremberg trials he was described as being the 'finest interpreter in the world'.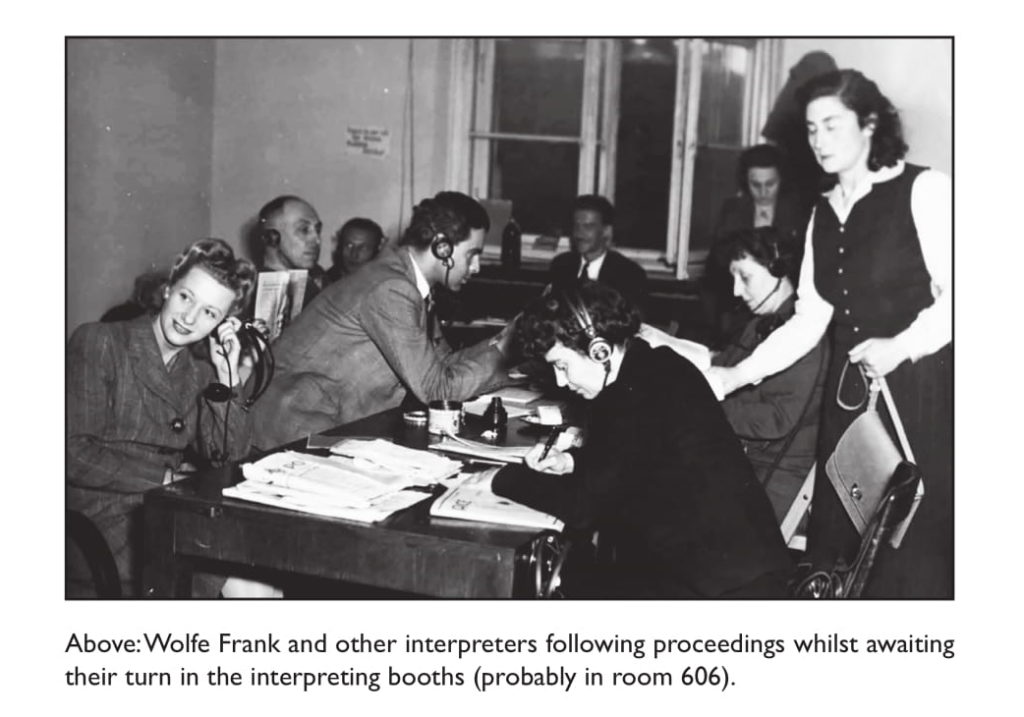 A highly intelligent man of immense courage, charm, good manners, integrity and ability Frank was a unique character of extreme contrasts and he undertook the toughest assignment imaginable at Nuremberg where he played a major role in 'materially shortening the enormously difficult procedures by an estimated three years'.
Nuremberg's Voice of Doom is therefore a story of two interwoven themes: one of love, adventure and excitement; the other of a former German citizen's fight for the right to become a British soldier and his extraordinary commitment to service, duty and justice.
I believe this book to be an important military record that will appeal to those interested in the history of World War II and the rise and fall of the Nazi Party. It is also a definitive account of all that happened at Nuremberg and an enthralling human-interest story that will intrigue and fascinate a much wider audience.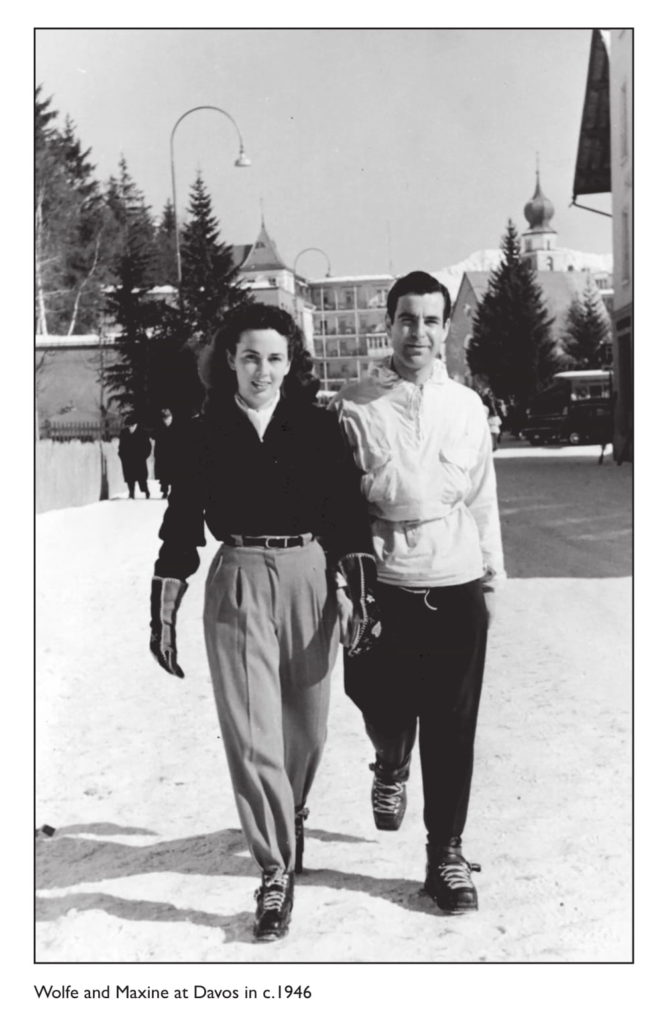 The second book The Undercover Nazi Hunter chronicles Wolfe's covert reporting missions for the NYHT and includes, for the first time in any language, the Nazi General's confession – I shall reveal more in a future blog.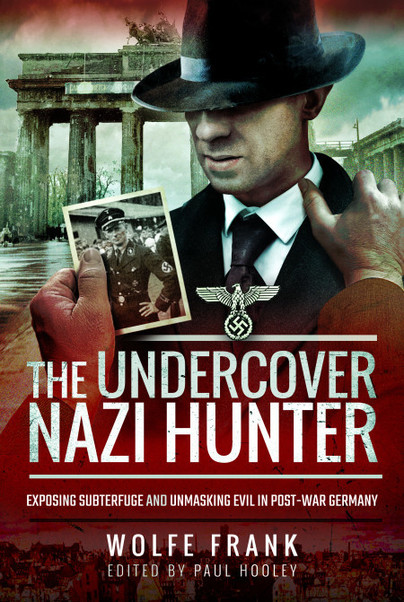 WOLFE FRANK was born on St Valentine's Day 1913. A strikingly handsome man he was irresistible to women. Married five times he had a multitude of affairs, many of which he graphically describes in Nuremberg's Voice of Doom, and it cannot be denied he was a maverick, a sybarite, a womanizer, a risk taker and an opportunist. He was also a man of immense courage and ability. In a packed lifetime other than being a gifted linguist he was also, at various times, a businessman, racing driver, skier, theatre impresario, actor, television and radio presenter, journalist, salesman, financier, restaurateur, and property developer – all subjects covered in the book.
PAUL HOOLEY was born and educated in Surrey. He founded a design and printing company that grew to be ranked amongst the industry's top 1%. He has also been a director of a building society, a private hospital and companies involved in advertising, publishing, entertainment, finance, building, transport, property and engineering. He retired from business in 1990 since when he has devoted much of his time to studying, writing and lecturing on a wide range of historical and military subjects. A former town and district councillor, he was Mayor of Bedford in 1978. Amongst other involvements he has been a magistrate, a tax commissioner and a prison visitor. He has been married to Helen for over 50 years, has three children and now lives in Dorset. He was appointed MBE in 2003.
---