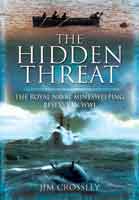 It is not widely appreciated that mines were by far the most effective weapon deployed
by Germany against the Royal Navy in WW1. They cost Britain five battleships, three cruisers, twenty-two destroyers, four submarines and a host of other vessels.

Mines were generally combated by a civilian force that sailed in a variety of commandeered vessels such as fishing boats and paddle steamers. This unlikely armada saved the day for Britain and her allies. After 1916 submarine attacks on merchant ships became an even more serious threat to Allied communications but enemy submarines were far less damaging to British warships than mines. Whereas in 1914 the Admiralty rather scoffed at mine laying as a sneaky un-British form of sea warfare, by the later stages of the war the Royal Navy learnt to use mines as a primary anti U boat weapon, developing an amazing variety of mined obsticles and mine laying vessels.
An intriguing book, well researched and written, which covered a topic that is probably not present in even well stocked bookshelves.

Firetrench.com Oct 2011
An interesting, worthy read.

The Great War Journal- Jan 2012
It kept my interest throughout and it is worth a read.

Naval Review
The text is interspersed with a good number of vivid personal accounts of the mining war.

Warships 2013
Perfect Partner
---
Service most Silent The Navy's fight against enemy Mines (Hardback)
From the very outset of war Nazi Germany demonstrated its determination and ability to lay siege to the British Isles by the laying of mines in shipping lanes. Losses to both merchant ships and naval vessels became a serious factor. If supplies continued to be lost by a combination of U-Boat and mine attacks the very survival of the nation was at risk. Finding counter-measures to the German mine offensive was thus a top priority. The responsibility for this vital work rested with a small group of highly skilled and courageous naval specialists based at HMS Vernon, the RN's mine and torpedo shore-base…
By
John Frayn Turner
Click here to buy both titles for £39.98
Customers who bought this title also bought...
---
Other titles in Pen & Sword Maritime...
---
---