---
Readers who are keen to broaden their understanding of the Crimean War and of the British army of the period will gain a critical insight through the variety of books we publish on the subject.

Memoirs and letters written by soldiers who took part provide graphic first-hand accounts of the campaign, and biographies and reassessments of key battles are essential reading for students of the Crimea and of nineteenth-century warfare in general.
Into the Jaws of Death
Between the Crimean War and the dawn of the 20th century, the British Army was almost continuously engaged in one corner of the globe or another, in military operations famously characterized by Kipling as the 'savage wars of peace'. In his new work on the most dramatic Victorian campaigns Mike Snook bring's the most dramatic clashes of the age of… Read more...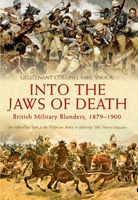 Related Product
---