Tracing Your Merchant Navy Ancestors
What was a merchant seaman's life like in the past, what experiences would he have had, what were the ships like that he sailed in, and what risks did he run? Was he shipwrecked, rewarded for bravery, or punished? And how can you find out about an ancestor who was a member of the long British maritime tradition? Simon Wills's concise and informative… Read more...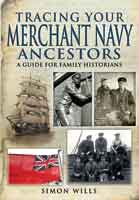 Related Product
Tracing Your Prisoner of War Ancestors: The First World War
The experience of civilian internees and British prisoners of war in German and Turkish hands during the First World War is one of the least well-known – and least researched – aspects of the history of the conflict. The same applies to prisoners of war and internees held in the UK. Yet, as Sarah Paterson shows in this authoritative handbook, a… Read more...
Related Product
---