---
The role of the sniper in military history has always fascinated readers. The special skills that a top sniper requires - the combination of accuracy with stealth and guile - are rarely found on the battlefield, but when they are they can be used to devastating effect, not just in physical damage but also on morale. One of the key aims of Pen and Sword's Sniper list has been to publish books where historians, or the snipers themselves, illustrate the field craft, patience and skill required. Some of our bestselling titles are amongst this list a must read for anyone interested in this deadly form of battle craft.
The Sniper Anthology
Revered by some as the ultimate warrior and condemned by others as ruthless assassins – the combat sniper is more than just a crack shot. They are highly disciplined, calm professionals skilled in marksmanship, reconnaissance and camouflage. During the Second World War these lethal fighters were deployed by both sides to deadly effect. This new collection… Read more...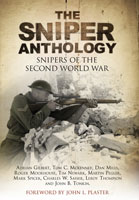 Related Product
---