---
On 23rd August 1914 the British Expeditionary Force began what would be its first significant action in the First World War, as they attempted to defend the Mons-Conde canal from the German army. The action ended in retreat but led to the Battle of the Marne, which saw the allies achieve victory.

The Battle is surrounded by the infamous legend of the 'Angels of Mons', where bowmen from the Battle of Agincourt were said to appear as spirits to protect the British Forces. The myth originated from a contemporary piece by Arthur Machan, a popular writer of supernatural stories, yet despite his assertions that the tale was a work of the fiction the legend was in some quarters accepted as fact. The allegorical nature of the story continues to resonate to this day.
Battle on the Aisne 1914
The River Aisne featured prominently in August 1914 during the Retreat from Mons. A month later it was the scene of further desperate action when the British Expeditionary Force re-crossed it in their unsuccessful attempt to dislodge the German Army entrenched along the crest of the slopes on its northern bank. Having already fought three major engagements… Read more...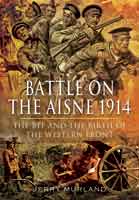 Related Product
---