---
In 1945 the Third Reich was in its death throes, with Hitler holed up in his bunker and the remaining armed forces consisting of young boys, old men and foreign conscripts. The Battle of Berlin was led on the ground by Soviet forces, with air support from the Allies who by this stage saw little need to stage a ground invasion of the city.

The fall of Berlin was marked by the alleged atrocities committed by the Soviet forces, who sought vengeance for Nazi brutalities in the East. On the 30th April Hitler committed suicide and by 2nd May Berlin had fallen. Victory in Europe was declared on 8th May 1945.

Pen & Sword Books have a wide-range of titles covering this final stage of the Second World War.
The Devil's Workshop
One of the most remarkable episodes of WWII was the Nazi attempt to forge currency and trigger the economic collapse of the Allies. The counterfeit operation was one of the largest the world has ever seen and lead to the postwar reissue of sterling. At the Sachsenhausen concentration camp near Berlin, 144 Jewish prisoners of 13 different nationalities… Read more...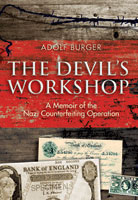 Related Product
---