Tracing Your Irish Family History on the Internet
Ireland has probably experienced more tragedy when it comes to the preservation of resources for family historians than any other region of the British Isles. Many of the nation's primary records were lost during the civil war in 1922 and through other equally tragic means. But in this new book Chris Paton, the Northern-Irish-born author of the best-selling… Read more...
Related Product
Tracing Your Ancestors through Family Photographs
Jayne Shrimpton's complete guide to dating, analysing and understanding family photographs is essential reading and reference for anyone undertaking genealogical and local history research. Using over 150 old photographs as examples, she shows how such images can give a direct insight into the past and into the lives of the individuals who are portrayed… Read more...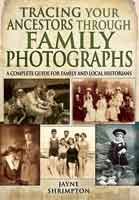 Related Product
---