---
The Battle of Stalingrad was one of the most important clashes of the Second World War and arguably the bloodiest. Epitomised by close combat fighting and heavy losses (both military and civilian), neither the Soviets or the Nazis were prepared to capitulate to their ideological enemies.

The Axis forces were eventually defeated by the Russian war machine, despite withdrawing many troops from the West to fight in the East and losing a significant proportion of the Wehrmacht.

Pen & Sword Books covers the fighting with a wide range titles, which give an extensive insight into this notoriously bitter battle.
Stalingrad to Kursk
The epic battles fought at Stalingrad and Kursk were pivotal events in the war on the Eastern Front. After the catastrophic failure of the German offensives of 1942 and 1943, the Wehrmacht was forced onto the defensive. Never again would it regain the initiative against the seemingly inexhaustible forces of the Red Army. But how did this decisive shift… Read more...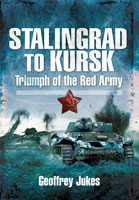 Related Product
YouTube videos are unavailable because you have chosen to turn off third party cookies for enhanced content. Visit our cookies page to review your cookie settings.
Red Road From Stalingrad
Mansur Abdulin fought in the front ranks of the Soviet infantry against the German invaders at Stalingrad, Kursk and on the banks of the Dnieper. This is his extraordinary story. His vivid inside view of a ruthless war on the Eastern Front gives a rare insight into the reality of the fighting and into the tactics and mentality of the Red Army's soldiers… Read more...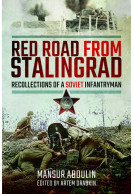 Related Product
---