YouTube videos are unavailable because you have chosen to turn off third party cookies for enhanced content. Visit our cookies page to review your cookie settings.
The Remarkable Story of Fred Spiksley
Gainsborough's Fred Spiksley was one of the first working class youngsters in 1887 to live 'the dream' of becoming a professional footballer, before later finding a role as a globe-trotting coach. He thus dodged the inevitability of industrial, poorly paid, dangerous labour. Lightning fast, Spiksley created and scored hundreds of goals including,… Read more...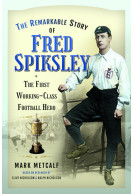 Related Product
---