YouTube videos are unavailable because you have chosen to turn off third party cookies for enhanced content. Visit our cookies page to review your cookie settings.
100 Years War: Agincourt 1415
On the 25th October 1415 Henry Vs small and dispirited Anglo/Welsh Army destroyed a vast French Army at Azincourt. This programme looks at not just this iconic battle immortalised by Shakespeare and many other authors but the campaign that led up to this final great English victory of the 100 Years War when the Yeoman of England reigned supreme on… Read more...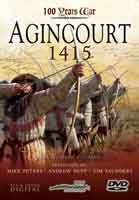 Related Product
---