Tracing Your Lancashire Ancestors
If you want to find out about Lancashire's history, and particularly if you have family links to the area and your ancestors lived or worked in the county, then this is the ideal book for you. As well as helping you to trace when and where your ancestors were born, married and died, it gives you an insight into the world they knew and a chance to explore… Read more...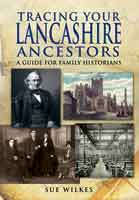 Related Product
Tracing Your Welsh Ancestors
Few previous publications have focused on Welsh family history, and none have provided a comprehensive guide to the genealogical information available and where to find it. That is why the publication of Beryl Evans's new Welsh family history handbook is such a significant event in the field. Her detailed, accessible, authoritative guide will be essential… Read more...
Related Product
---