---

---
The Battle of Jutland was the greatest naval engagement of the First World War. Germany needed to break the blockade of its mercantile shipping routes but little did they know that the British admiralty, led by the First Lord Arthur Balfour and The First Sea Lord Sir Henry Jackson, had already caught wind of their plans.

The battle continues to be a source of great interest today. Pen & Sword Books have a number of fascinating titles which will help you to better understand this important conflict at sea.

Visit Jutland 1916, an exciting new website from Nicholas Jellicoe for the Battle of Jutland Centenary Initiative.
---
Quizzes

Jutland

2016 marks the centenary of the Battle of Jutland. Here's your chance to put your Jutland knowledge to the test!

Start the Quiz

---
British Battleships of World War One
This superb reference book achieved the status of 'classic' soon after its first publication in 1986; it was soon out of print and is now one of the most sought-after naval reference books on the secondhand market. It presents, in one superb volume, the complete technical history of British capital ship design and construction during the dreadnought… Read more...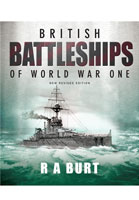 Related Product
---