---
Pen & Sword's Discovery imprint is devoted to explorers and adventurers who have sought to extend our understanding of our world and who have - sometimes literally - journeyed to the ends of the earth. On land, at sea and in the air they have dared to test their knowledge, skill, endurance and courage against the most hazardous conditions, and many of them lost their lives while doing so. Biographies, autobiographies, memoirs and accounts of remarkable exploits and expeditions will all be published in this new list which celebrates the extraordinary accomplishments of men and women who were prepared to take enormous risks in order to pursue their passion for discovery.
One Man's Climb: A Journey of Trauma, Tragedy and Triumph on K2
A deeply moving story of the beauty and brutality of life, and death, on the world's most unpredictable and perilous mountain. Sitting just lower than Everest at 8,611 metres above sea level on the China–Pakistan border, the Savage Mountain claims the lives of even the most experienced climbers. Alongside severe altitude, the weather is notoriously… Read more...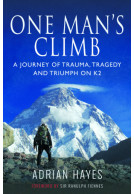 Related Product
---