YouTube videos are unavailable because you have chosen to turn off third party cookies for enhanced content. Visit our cookies page to review your cookie settings.
How to Stay Fit and Healthy During Pregnancy
We are constantly bombarded with information about diet and fitness and how important this is to a healthy lifestyle, and there is an increasing focus on pregnancy as a phase of life when this really matters. Sifting out the evidence-based, accurate information can be a challenge, and that's where How to Stay Fit and Healthy during Pregnancy comes… Read more...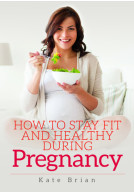 Related Product
---