---
The name of Flanders was forever immortalised in the poem by the Canadian Lieutenant Colonel John McCrae, In Flanders Fields.
The Germans in Flanders 1914
THE GERMANS IN FLANDERS 1914, the latest of historian David Bilton's works in the popular Images of War series, follows the presence and campaigns of the Kaiser's Army in Flanders during the traumatic period from its arrival in August 1914 through to the end of the year. It covers the battles with the French, Belgians and British, concentrating primarily… Read more...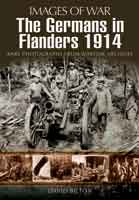 Related Product
---