---
The Dambuster Raid is one of the most iconic bombing raids that took place during WW2. A hand picked, international team of specialist low fliers were assembled to execute a daring low level raid which would strike at the heart of Germany's industrial regions.

Pen and Sword have a selection of titles which deal with all aspects of the operation.
YouTube videos are unavailable because you have chosen to turn off third party cookies for enhanced content. Visit our cookies page to review your cookie settings.
Enemy Coast Ahead
Prior to World War Two, Wing Commander Guy Gibson joined the Royal Air Force. In 1944, he wrote down his experience of serving in the RAF. Aged just 25, Gibson had completed two full tours, each of 30 operations, with Bomber Command, and had led the now-famous Dam Busters raid against the dams of the Ruhr Valley in May 1943. He died aged 26 in 1944,… Read more...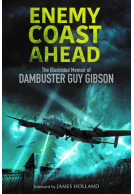 Related Product
---