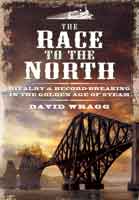 The Race to the North

(Hardback)

Rivalry and Record-Breaking in the Golden Age of Steam

Get The Race to the North for just

£16.99

by becoming a Platinum Member.

What's this?

+£4 UK Delivery or

free UK delivery if order is over £30

(

click here for international delivery rates

)

Order within the next 19 minutes to get your order processed the next working day!
In the late nineteenth century, some of Britain's leading main-line railway companies threw caution to the winds in an attempt to provide the fastest passenger express services between London and Scotland. These became known as the 'races to the north'. There were two phases, in 1888 and 1895, and they spurred the building of new bridges across the Firth of Forth and Firth of Tay.

David Wragg's gripping, detailed narrative tells the story of this epic engineering and commercial competition. He concentrates on the determination of the railway companies to see who could provide the fastest schedule between London and the main Scottish cities of Edinburgh, Glasgow, Perth, Dundee and Aberdeen.

Casting aside their early policy of co-existence on these prestigious and lucrative routes, the West Coast and East Coast companies were drawn into a period of intense, highly publicized rivalry as they sought to dominate the market. David Wragg gives an insight into the conduct of the well-publicized highs and tragic lows of this dramatic story – the extension of the lines to the far north, the building of the Tay and Forth bridges – including the collapse of the first Tay bridge with 72 fatalities – and the repeated bids by the companies to cut the journey times.

While he describes the public side of this fascinating story, David Wragg fills in the background, which is no less interesting – the pioneering engineering of the steam age, the massive construction projects, the cut-throat battle for passengers and freight and the deep inter-company rivalries that drove the rapid development of the railways during the Victorian period.
Perfect Partner
---
Commuter City How the Railways Shaped London (Hardback)
On the eve of the railway age, London was the world s largest and most populous city and one of the most congested. Traffic-clogged roads and tightly packed buildings meant that travel across the city was tortuous, time-consuming and unpleasant. Then came the railways. They transformed the city and set it on a course of extraordinary development that created the metropolis of the present day. This is story that David Wragg explores in his fascinating new book. He considers the impact of the railways on London and the Home Counties and analyses the decisions taken by the railway companies, Parliament…
By
David Wragg
Click here to buy both titles for £39.98
More titles by David Wragg
---
Other titles in Wharncliffe Transport...
---
---