Sale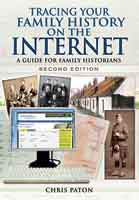 Tracing Your Family History on the Internet

(Paperback)

A Guide For Family Historians - Second Edition

Get Tracing Your Family History on the Internet for just

£8.83

by becoming a Platinum Member.

What's this?

Get this product as part of the following bundles:

+£4 UK Delivery or

free UK delivery if order is over £30

(

click here for international delivery rates

)

Order within the next 1 hour, 8 minutes to get your order processed the next working day!
This fully revised second edition of Chris Paton's best-selling guide is essential reading if you want to make effective use of the internet in your family history research. Every day new records and resources are placed online and new methods of sharing research and communicating across cyberspace become available, and his handbook is the perfect introduction to them. He has checked and updated all the links and other sources, added new ones, written a new introduction and substantially expanded the social networking section.

Never before has it been so easy to research family history using the internet, but he demonstrates that researchers need to take a cautious approach to the information they gain from it. They need to ask, where did the original material come from and has it been accurately reproduced, why was it put online, what has been left out and what is still to come? As he leads the researcher through the multitude of resources that are now accessible online, he helps to answer these questions. He shows what the internet can and cannot do, and he warns against the various traps researchers can fall into along the way.

As seen in Your Family Tree Magazine.
Great for the beginner, detailing what can be found where, but with words of caution on limitations and pitfalls. The greatest strength of the book is that it doesn't become bogged down by trying to be too comprehensive.

Who Do You Think You Are? Magazine
Perfect Partner
---
Tracing Your Irish Family History on the Internet (Paperback)
Ireland has probably experienced more tragedy when it comes to the preservation of resources for family historians than any other region of the British Isles. Many of the nation's primary records were lost during the civil war in 1922 and through other equally tragic means. But in this new book Chris Paton, the Northern-Irish-born author of the best-selling Tracing Your Family History on the Internet, shows that not only has a great deal of information survived, it is also increasingly being made available online. Thanks to the pioneering efforts of the Public Record Office of Northern Ireland,…
By
Chris Paton
Click here to buy both titles for £23.38
Perfect Partners - Buy all 3 for £30
---
Buy all for £30.00 usual price £32.78, you save £2.78!
Customers who bought this title also bought...
---
Other titles in Pen & Sword Family History...
---
---