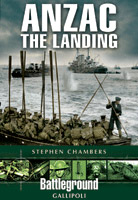 The Anzac legend was born on the shores of Gallipoli during the historic morning of 25th April 1915. Landing on a hostile beach, under the cover of darkness, the Anzacs moved inland rapidly, but the response of the Ottoman forces was equally quick. The outcome of the campaign was arguably sealed during the first day, when the door for an Anzac victory was closed. With the order to dig, dig, dig and to stick it out, a stalemate was secured from the clutches of almost total disaster. After the Australians and New Zealanders received their baptism of fire, they became a stubborn thorn in the sides of the Ottoman army. Futilely after eight gruelling months of fighting, the campaign came to an end with the complete evacuation of the Gallipoli Peninsula. Failure did not mar the actions and sacrifice of the Anzacs who bestowed a powerful legacy, as well as being a landmark in the birth of modern Turkey. Almost a century later, with all the veterans now sadly gone, their legacy still survives in Anzac Day and with the ever increasing numbers of pilgrims who visit the battlefield today. This attractive and well-written book will serve as either a handy guide or concise history (or both).
In the usual way of the excellent Battleground Series from Pen & Sword, this guide is informative, profusely illustrated and well-written.

Britain at War - October 2008
informative, profusely illustrated and well-written.

Britain at War - October 2008
Perfect Partner
---
Suvla: August Offensive- Gallipoli (Paperback)
The landing at Suvla Bay, part of the August Offensive, commenced on the night of 6 August 1915. It was intended to support a breakout from Anzac Beach. Despite early hopes from a largely unopposed landing, Suvla was a mismanaged affair that quickly became a stalemate. The newly formed IX Corps, commanded by Lieutenant General Sir Frederick Stopford, failed, not for lack of sacrifice of its New Army and Territorial's, but for failure of generalship. Opportunities were thoughtlessly wasted due to lethargy. Suvla not only signalled the end of Stopford and many of his Brigadiers, but also saw the…
By
Stephen Chambers
Click here to buy both titles for £26.99
More titles by Stephen Chambers
---
Customers who bought this title also bought...
---
Other titles in the series...
---
Other titles in Battleground...
---
---