YouTube videos are unavailable because you have chosen to turn off third party cookies for enhanced content. Visit our cookies page to review your cookie settings.
The 1066 Hastings Campaign: The Dark Ages
The Battle of Hastings in 1066 is with out a doubt one of the most significant events in English history. In the aftermath of the battle, King Harold's Saxon England was brutally swept away by the Conqueror to be replaced by Norman Feudalism. With the decisive nature of the battle, it is often forgotten just how narrowly Duke William succeeded. This… Read more...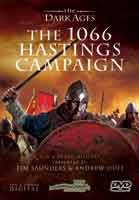 Related Product
---